A Fitting Tribute To Our Signature Product
by Jeff Hopkins, on 1/29/20 8:45 AM
It has been over 70 years since the Swagelok tube fitting made its debut
---
"Swagelok Company was founded in 1947 by Fred A. Lennon
(1905-1998), with a $500 loan and the promise of a colleague's design for an easy-to-install, leak-tight tube fitting."
- From Swagelok History
Swagelok has such a deep catalog of fluid system components that sometimes we need a reminder of the company's starting point: the two-ferrule tube fitting.
It was 70 years ago that the Swagelok tube fitting made its debut. It was a revolutionary design that has been continuously refined over the decades. Let's look at four specific advantages:


Design
The Swagelok tube fitting outperforms other fittings in three key areas:
Tube grip
Gas seal
Vibration resistance
Our unique SAT12 carburization process produces better performance. Swagelok fittings are easy to install and are backed by extensive training and an industry leading limited lifetime warranty. We conduct continuous, rigorous testing for extreme environments.


Materials
For optimal performance, Swagelok tube fittings are offered in a wide range of alloys to combat corrosion. They are made from only high-quality raw materials, and can be used in engineered combinations.


Manufacturing
We forge, machine, electropolish, weld, assemble, and test, all tube fitting in our own factory. We use optimized top-of-the-line tools and machining methods across 20 production facilities. Our robust Reliability Excellence program keeps equipment running at optimal efficiency. Traceability at all phases is an integral part of our overall quality system. Our Limited Lifetime Warranty is a promise as strong as our products.


Installation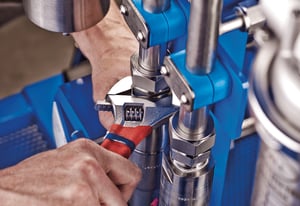 Swagelok fittings come fully assembled, and connections can be reassembled many times.
They are easy to install, and our expert training equips your workforce with the essential know how.
Only standard wrenches are needed. Installers don't have to thread, flare, solder, braze or weld. And the Swagelok tube fitting requires significantly lower torque than most other tube fitting brands.


Performance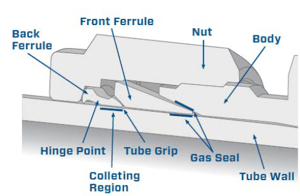 Swagelok tube fittings have a grip-type design that uses a unique "hinging and colleting" action, which provides more direct tube contact and gripping support. The gas seal - the burnishing/polishing action of the front ferrule creates concentrated zones of contact on the tube and on the body bevel for a stronger seal. The colleting region better isolates stress risers at the tube grip to resist bending, deflection, and vibration.


Supply Chain
Swagelok can support your success wherever it takes you. You have inventory available right here in the Bay Area and around the world, plus training classes and advisory services.


Refinery advantage

If you are an instrumentation and control professional in an oil refinery, you understand the value
of high-quality, reliable connections
to avoid critical and costly issues from leakage, improper Installation, corrosion and vibration.

The Swagelok tube fitting allows you to make repeatable, reliable leak-tight connections on process instrumentation systems. The patented case-hardening process and back-ferrule geometry produce an excellent colleting grip of the tube, minimizing the effects of vibration. Because this design uses consistent geometry instead of torque for gaugeable make-up, the Swagelok tube fitting can be used on a range of thick- or thin-walled, hard or soft tubing, while resisting the effects of pressure and thermal cycling.

Moreover, Swagelok tube fittings minimize fugitive emissions, as well as reduce process fluid leakage and operation costs.



Simple installation, combined with consistent gaugeability upon initial installation, minimizes installation error.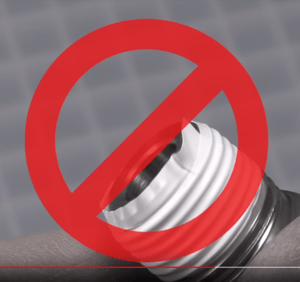 It is painfully easy to improperly apply tape, and in almost every case you'll figure it out only after you trashed your fitting. Most galled fitting disasters we've seen were due to improperly applied thread tape. If you are on a tight schedule with little margin for error, mimimize the use of PTFE tape by using Swagelok tube fittings.
Swagelok tube fittings are available in a variety of materials, including controlled 316 stainless steel and SAF 2507 super duplex for enhanced corrosion resistance in a variety of applications, including sour gas systems. In addition, the unique back-ferrule design and fitting geometry help eliminate dead spots and entrapment of corrosive fluids better than other connection methods.
The patented case-hardening process and back-ferrule geometry provide excellent vibration fatigue resistance—even in harsh or stressful environments, such as gas turbines, compressors, and pumps.
---
Just ask
From the humble tube fitting Swagelok built a global organization that can take care of all your fluid system needs. And your point of contact is right here in Northern California. Call us at 510-933-6200 or contact us through our website.
---
More like this: