Best Options for a Mechanical Seal for High-Pressure Applications
by Paul Lesnau, on 8/27/20 8:45 AM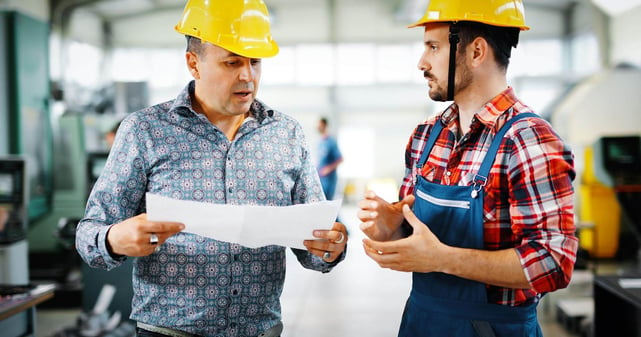 Whether your refinery is transforming crude into industrial and consumer products, transporting gas through miles of pipeline, or circulating water to generate electricity or cool a heat exchanger, you need a dependable solution. The reliability of high-pressure pumps, mechanical seals, and seal support systems are critical to safe and efficient operations.
Failure in a high-pressure pumping application can injure personnel and, here in Northern California, that may result in fines or sanctions from Cal/OSHA or BAAQMD. But in every geographic region, unplanned downtime and cleanup add to operational costs.
If any of your high-pressure pumping applications are "marginal," perhaps as a result of changing process conditions, outdated seal technology, or inadequate seal support capabilities, it's time to revisit the appropriateness of the current systems. The information below offers guidance to help you understand the best high-pressure mechanical seal options on the market today.
Why Dual Mechanical Seals Are Best for High-Pressure Applications
For most of these high-pressure applications, dual mechanical seals provide a superior level of reliability and safety. A dual mechanical seal arrangement uses a barrier or buffer fluid between the two seals to counter the high pressure of the process fluid. In comparison to a single mechanical seal, the right dual seal arrangement offers the further advantages of:
Virtually

eliminating leakage of process fluid

handled by centrifugal pumps
Avoiding catastrophic leakage of process fluids under high-pressure
Providing better control of the seal environment and seal face lubrication
Extending seal life to improve mean time before failure (MTBF)
Dual mechanical seals for high-pressure processes also facilitate advanced notice of impending failure. With a well-matched mechanical seal and seal support system, deterioration or failure of one seal can be detected by changes in the pressure of the barrier or buffer fluid that separates the dual seals. With early detection, you can take measures to smoothly shut down the process and remedy the problem. This is far preferable to catastrophic failure and clean-up that puts you at risk of violating CA Industrial Safety Orders or BAAQMD regulations.
Choosing Among the Dual Mechanical Seal Configurations
Once you've decided that a dual mechanical seal is the best option for the high-pressure application you are dealing with, you'll need to choose the configuration to use. Dual mechanical seals have three general configurations:
| | |
| --- | --- |
| Dual Seal Configuration | Use Case |
| 1. Face-to-face | This configuration is declining in popularity due to the greater reliability of the other dual seal configurations. |
| 2. Back-to-back | Primarily for general, non-hazardous applications where seal failure will not result in environmental risk. |
| 3. Tandem (or face-to-back) | Delivers the best assurance against failure because the outboard seal provides full pressure back-up against leakage. This design is the best option for hazardous fluids where leakage or fugitive emission might violate BAAQMD regulations. |

Each of these configurations has design variations depending on manufacturer, materials, and pumping process requirements.
Although some refineries may have reliability engineers with significant mechanical seal experience, you'll want to consult with a local seal support systems vendor early on. The knowledge and assurance you'll gain regarding the latest seal and support system configurations and compatibility with specific high-pressure applications will be invaluable. From understanding ergonomics requirements to selecting fluids, you can receive guidance on the best, most cost-effective options.
Support Systems For Mechanical Seal High-Pressure Applications
Dual mechanical seals depend on a seal support system to deliver the barrier/ buffer fluid at the proper rate, temperature, and pressure. The API 682 standard lists many barrier/ buffer seal support systems compatible with dual seal arrangements. The relatively simple API Plan 52, illustrated below, employs a pumping ring to circulate unpressurized buffer fluid between a dual seal arrangement.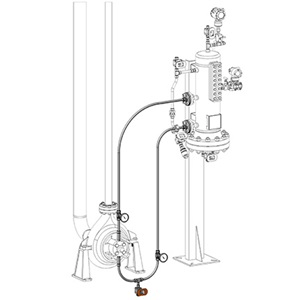 API Plan 52 Buffer Fluid Seal Pot
The more sophisticated API Plan 54, shown below, uses an external pump and reservoir to circulate pressurized barrier fluid to the dual seal arrangement. This plan can be customized to meet the specific needs of the high-pressure pumping process. It has the addition of a filter, heat exchanger, diaphragm accumulator, flow meter, differential pressure indicators, and temperature gauge to monitor performance.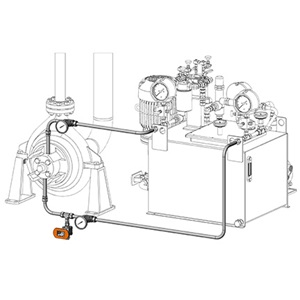 API Plan 54 Barrier Fluid Pressurized by External System
To meet the varying requirements of mechanical seal high-pressure requirements you'll also find dual seal support systems that:
Any of these plans, too, can be configured to tailor the specific high-pressure pumping requirements. For added safety, pressure, temperature, and flow transmitters can be included in the system design to monitor performance and provide early warning of impending problems.
Buffer or Barrier Fluid? That Is The Question
Regardless of the dual seal configuration you choose, the functionality of dual mechanical seals relies on buffer or barrier fluid delivered between the process-side seal and the atmosphere-side seal. Fluid delivered at a higher pressure than the process fluid being pumped is called barrier fluid. When it is delivered at a lesser pressure than the process fluid being pumped, it's called a buffer fluid.
The table below classifies the applications and use cases for each.
| | | |
| --- | --- | --- |
| | Barrier Fluid | Buffer Fluid |
| Applications | Pumping dangerous/ toxic process fluid where the failure of one primary seal could endanger personnel or bring about environmental risk. | Contamination of the process fluid is unacceptable. Process fluid provides adequate seal face lubrication. |
| Process Fluid Management | Prevent process fluid from damaging the process-side seal faces. | Prevent process fluid leakage into the atmosphere or environment. |
| Seal Lubrication | Lubricate process-side and atmospheric-side seal faces. | Lubricate the atmospheric-side seal faces while process fluid lubricates process-side seal faces. |

Water, water/ glycol, hydraulic or lubricating oil, specially formulated heat-transfer fluids, and even nitrogen are the principal barrier/ buffer fluid types. The choice of fluid depends primarily on the characteristics of the fluid being pumped and should be guided by knowledgeable engineers.
Pool Expertise To Arrive At The Optimal High-Pressure Solutions
Selecting the right dual seal arrangement and seal support system for a high-pressure pumping application requires the combined knowledge of the process or reliability engineer, mechanical seal specialist, and experienced seal support system partner. Each brings a specific level of technical expertise needed to address the challenges of high-pressure pumping applications.
In comparison to mechanical seals, seal support systems for high-pressure pumping applications can require a greater degree of design and customization. Make sure you're working with a partner, convenient to your location, and knowledgeable in the industry and local regulations.
Swagelok: Local. Reliable. Experienced
Swagelok has decades of experience working with Northern California industries to provide seal support systems for mechanical seal high-pressure applications. We welcome the opportunity to meet with you on-site to understand your requirements. We can help you decide if you require some custom design or engineering to retrofit existing infrastructure or meet demanding process or environmental requirements. Our Feld Engineers will then work with our assembly technicians to fabricate and thoroughly test the seal support system prior to delivery. Mechanical seal high-pressure reliability is further enhanced by Swagelok's industry-leading Lifetime Warranty.
To find out more about how Swagelok Northern California can work with you to design and fabricate seal support systems specifically tailored to mechanical seal high-pressure applications, Contact our team today by calling 510-933-6200.
---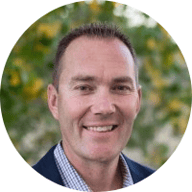 About Paul Lesnau | Sales Manager, Business Development Manager, and Field Engineer
Paul holds a B.S. in Mechanical Engineering from North Dakota State University. Before joining Swagelok Northern California, he was the West Coast Regional Sales Manager for an organization based in Illinois involved in pneumatic and hydraulic applications where he supervised product distribution throughout the western United States, Canada, and Mexico. While in this role, he was able to help provide technical and application-specific expertise to customers and distribution to drive specifications.