Do you fabricate tubing systems? This toolbox is designed for you.
by Jeff Hopkins, on 3/3/15 8:00 AM
If you are experienced at fabricating tubing systems, your time and expertise are valuable. Packed with hand tube benders and much more, the Swagelok Tube Fitter's Toolbox is designed to save pros like you time by putting the best tools at your fingertips and keeping them in good condition for years.
Here's a 60-second overview:
The toolbox is a lockable, rolling, water resistant case made by Pelican that contains a complete set of Swagelok hand tools designed specifically for fabricating tubing systems in 1/4, 3/8, and 1/2 in (see details below). The included preswaging tools enable you to do some work on the bench first. That's helpful if you are working in tight spaces, over your head or down by your feet.
Detail on toolbox contents
Hand tube benders in three sizes

Tube cutter

Tube deburring tool
Gap inspection gauges in three sizes
Tee wrenches in three sizes
Ratchet wrenches in three sizes
Pre-swaging tools in three sizes
Swagelok's Tube Fitter's Manual
We always tell our customer base that you don't need any specialized tools to install our tube fittings, and that's true. But our tee wrenches and ratchet wrenches do make the job easier and speed up the work. For instance, one advantage of Swagelok tube fittings is that they can be disassembled and reassembled. We offer the pre-swaging tools so you can do some work on the bench and then take the assemblies to the field and put it all together. That's helpful if you are working in tight spaces, over your head or down by your feet.
Compact, lockable case with wheels
The carrying case is made by Pelican, one of the best tool case brands in the nation. The case is lockable for security, and is equipped with wheels for easy transport. Inside, the foam lining gives each tool its own space, and protects it from dirt and debris. That's important, because a damaged roller wheel on a bender could cause scoring and result in bends getting rejected by an inspector.
If you already own the tools, you can buy the case separately. Or, you can buy the case and gradually fill it with only the tools you need.
Combine toolbox and seminars for best value
For a limited time, you get free admission to our two most popular seminars ($258 value): our Swagelok Tube Fitting Safety Seminar and to our Swagelok Tube Bending Seminar when you buy the Swagelok Tube Fitter's Toolbox (part number MS-FSTOOLS-KIT). That way you can brush up best practices while gaining the highest quality tools.
---
Stainless steel tube bending service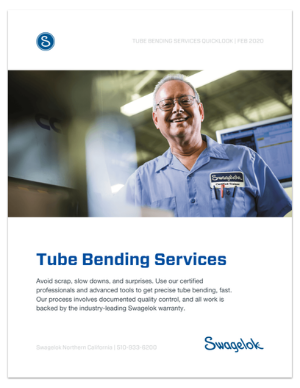 Putting even one bend in small-diameter tubing takes skill. Anything more, and DIY bending can be costly. There's waste/scrap... risk of creating defects in the tubing... risk of slowing down production... and risk of cost surprises if you need tools or have to redo the work.
Avoid scrap, slow downs, and surprises. Here at Swagelok Northern California, certified professionals use advanced tools to deliver precise, repeatable results. Our process involves documented quality control, and all work is backed by the industry-leading Swagelok warranty.
---
Build it for me
We can often help customers accelerate production and make tight deadlines by handling assembly for them. Keys include streamlined assembly designs, precise and efficient technicians, and having $20M worth of parts in our local warehouse.
When you opt for assembly by our team, you receive CAD drawings, piping and instrumentation diagrams, Bill of Materials, and warranty information. Our Product Test Reports provide exhaustive performance data, third party certifications, and approvals. We can also assign one part number for an entire assembly. Doing so reduces purchase orders and your time investment. And as your design is repeated, costs are minimized because it has been vetted by Swagelok engineers.
---
More articles like this: