Welcome to our Bay Area tube bending service
by Jeff Hopkins, on 2/28/20 8:30 AM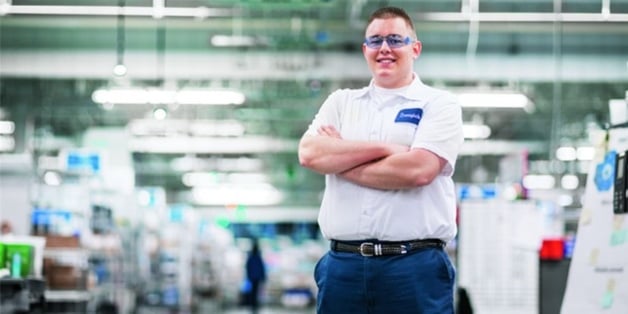 Designed to save you time
At one of Swagelok Northern California's three Bay Area facilities, several thousand square feet is now dedicated to our Tube Bending Cell. We've just posted a new page where you can learn about it.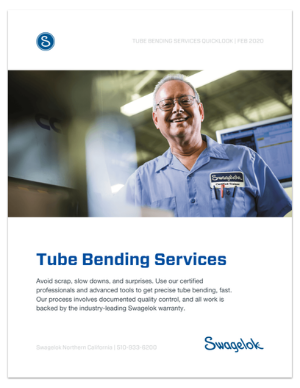 Check out the detailed intake form you can use to get your bending job moving (optional—just call us if you prefer). And take a new flyer (pictured) while you're there.
Bending by the best
The Swagelok Northern California Tube Bending Cell houses state of the art tools and technology—which we'll get to in a moment. More important is the highly trained team working inside it.
Led by fluid systems engineer Morgan Zealear, this team is fluent in Boiler & Process Piping Codes B31.1, B31.3 and certified by Swagelok in fabrication and assembly, including stainless steel tube bending—which involves rigorous initial training then recertification every 3 years. They are part of our local team of 80+ associates.
How it works
Starting with a drawing, CAD model, or even a part, this team analyzes your design. They factor in capabilities, expected results... even details like springback (typically 4.25%). If we notice any issues, we reach out to you with options.
If the job requires CNC bending, we use our Star Evo 450 CN9 tube bender. It was built to handle material up to 60mm in diameter, and handle 20' long sticks. Yet the behemoth can delicately handle tubing down to ¼" tube outer diameter and still achieve a 1 to 180° bending range.
The right tools for the job
If manual bending is better for a particular job, we can use our Swagelok Electric Tube Bender, which is perfect for automating the process of putting 1 to 110° bends in 1 to 2 inch outside diameter tubing; our rugged, lightweight Swagelok Bench Top Tube Bender, which precisely bends ¼ to 1 ¼ inch outside diameter tubing up to 180°; or a Swagelok Hand Tube Bender for consistent, high-quality bends up to 180° in ⅛ to ½ inch outside diameter tubing.
Swagelok quality controls
Whether it's in-process or final quality control, we use the most advanced hardware and software to analyze parts in 3D. For example, we use a Hexagon ROMER Absolute Arm with integral laser scanner with Advanced Tubular Technologies VTube-Laser software.
All the above happens in the context of our robust quality management system, certified as meeting Quality Management System ISO 9001:2015 standards and certified as complying with the Swagelok Quality System, a Swagelok-specific standard. That's why every Swagelok product, assembly, and solution comes with Swagelok's Limited Lifetime Warranty—widely regarded as the industry's strongest.
Additional options
We are happy to put one bend in a single piece of tubing for you. We can put complex bends in hundreds of pieces of tubing for you. Or we can bundle bending services with other services that may save you time and money. For example, we can provide evaluation and advice onsite at your facility; design and/or fabricate panels and assemblies from scratch; rent you dozens of tools; train your team in tube bending and other essential skills; and more.
---
Swagelok customers have saved big by using our local tube bending services. For example, Swagelok helped Green Alternative Systems reduce production costs by $1.3M with tube bending solutions. View example →
---
Whether you use our tube bending service alone or together with other services, you'll work with pros who have decades of experience in alternative fuels & transportation, chem/petrochem, R&D, oil/gas, power, and semiconductor applications.
---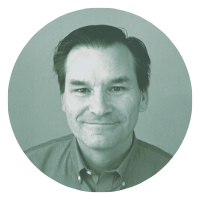 About Jeff Hopkins, MarCom Manager
Jeff Hopkins has managed marketing at Swagelok Northern California since 2012. In that role has posted over 500 blog articles on fluid systems management best practices. He joined the company in 2005, initially serving as an Account Manager responsible for sales and account management in Silicon Valley. To be notified about new articles, follow us on LinkedIn.
---
More like this: