FAQ: Which tubing should I use with Swagelok tube fittings?
by Jeff Hopkins, on 10/24/13 9:00 AM
The four main factors, where to check details, and how to get help.
---
This article has three parts: 1. A refresher on the four factors that impact tube fitting choice; 2. Where to get detailed info and 3. What to do if you're not sure.
Refresher: What determines which tubing is right?
Surface finish
Material
Hardness
Wall thickness
Deciding which tubing to use depends on many factors. The key ones are the outside diameter of the tubing, the wall thickness of the tubing, and the material of the tubing and tube fittings.
Example: The key to selecting proper tubing for use with metal Swagelok tube fittings is that the tubing must be softer than the fitting material.
For comprehensive info, get the Swagelok Tube Fitter's Manual here:
Research: Where to look up tubing details?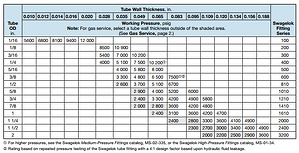 Check the Tube Wall Thickness chart in the Swagelok Tubing Data Sheet to see suggested allowable working pressure tables like the Fractional Stainless Steel Seamless Tubing table pictured.
Swagelok tube fittings can be used with a wide range of tubing wall thicknesses, but there are wall thicknesses that are either too thin or too thick for use with Swagelok tube fittings.
Suggested ordering information
Suggested ordering information is also included underneath each table. For instance, here is the suggested ordering information for Fractional Stainless Steel Seamless Tubing:
High-quality, fully annealed (Type 304, 304/304L, 316, 316/316L, 317, 317/317L) (seamless or welded and drawn) stainless steel hydraulic tubing, ASTM A269 or A213, or equivalent. Hardness not to exceed 90 HRB or 200 HV. Tubing to be free of scratches, suitable for bending and flaring. OD tolerances not to exceed ± 0.003 in. for 1/16 in. OD tubing.
Note: Certain austenitic stainless tubing has an allowable ovality tolerance double the OD tolerance and may not fit into Swagelok precision tube fittings. Dual-certified grades such as 304/304L, 316/316L, and 317/317L meet the minimum chemistry and the mechanical properties of both alloy grades.
Gas or liquid service, temperature, and more
Other factors to consider: gas or liquid service, the temperature of your system, and whether you are using seamless or welded tubing. Again, the Swagelok Tubing Data sheet is the best reference for details.
---
Help me choose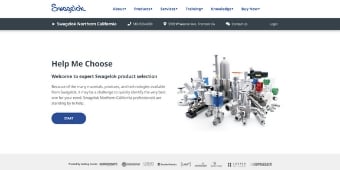 Because of the many materials, products, and technologies available from Swagelok, it may be a challenge to quickly identify the very best one for your need. Swagelok Northern California professionals are standing by to help.
---
Build it for me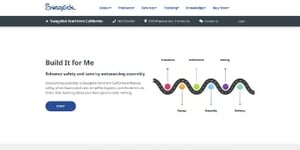 Outsourcing assembly to Swagelok Northern California enhances safety, often lowers total cost, simplifies logistics, and shortens turn times. And, learning about your best options costs nothing.
---
More articles like this: