Get the Inside Story With Our Demo Cases
by Jeff Hopkins, on 10/30/19 9:00 AM
There's nothing like seeing components up close and in person
---
"Swagelok strives for an exceptional customer experience. In large part, that experience is created by our people—our sales and service center principals, corporate leaders, and associates worldwide. These individuals go to extraordinary lengths with the customer in mind."
- From Why Swagelok
---
No picture in a catalog or on a computer screen can match the experience of examining a Swagelok component or tool in person. To feel the heft in your hand. To examine the quality of the fit and finish.
You don't need to come down to our warehouse to do it. Your account manager will be glad to bring any of several Swagelok demo cases to you. Not only will you get a hands-on look at some of our most popular components and tools, you can discuss your specific application needs and tap into your account manager's years of experience in helping customers select the right products.
Here's what we can bring to you.
Fittings
Our Fittings Case has a variety of fittings, adapters, quick-connects and ferrules. You'll see the right connectors for low, medium and high pressure applications. The case contains some specialty fittings too, such as a chromatograph union, a sanitary flange fitting and a welded adapter for vacuum tubing. You may be surprised how many parts we can fit in such a compact space.
Valves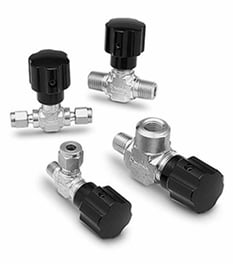 Our Valves Case includes two- and three-way ball valves, check valves, bellows valves, needle valves and metering valves.
Some of the samples are cut away to reveal their inner works. You can see how the springs, ports and other parts interact to adjust flow.
We also can show you cutaway models of our K Series and HF Series regulators.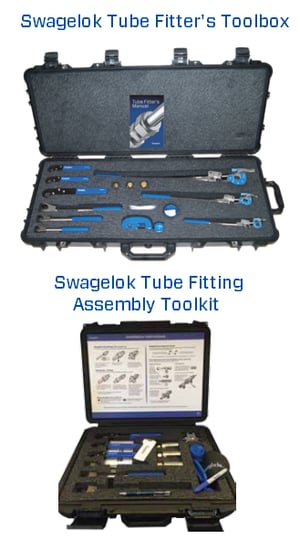 Tools
Our Tool Case contains the primary tools for installing valves and fittings: a hand tube bender, a ratchet wrench, a tee wrench, a tube cutter and a pre-swaging tool. In addition, we include some tubing in stainless steel and copper, a gap inspection gauge, a small open-end wrench and vice grip pliers. Also included are a permanent marker, teflon tape, a bottle of Snoop liquid leak detector and a tube of Swak thread sealant.
Customer Briefing Center
You can also visit us at our Fremont Headquarters for a tour of our Customer Briefing Center. At our Customer Briefing Center, you can see an entire working fluid system created by Swagelok Northern California. Five panels line the walls of the room, each showcasing a separate subsystem: gas delivery, distribution and flow control, process, hydraulic, and analytical instrumentation. It's a great way to see nearly every type of Swagelok components in action. Book your visit today >>
---
Would you like a private showing? Just ask!
Swagelok Northern California has a great deal of exposure to all aspects of fluid system design and engineering. Whether you have a simple question or a complex challenge, we're glad to hear from you.
---
More like this: