It All Comes Down To Good Training From Experts
by Jeff Hopkins, on 7/31/19 9:00 AM
You may know that you should do something, but have you been taught how?
---
"Industry has relied on Swagelok for advanced solutions in fluid handling components for more than 70 years. Today, with the global presence of Swagelok, our support and training complement the premium quality of our products."
- From Swagelok Training Choices
---
Swagelok has a few simple best practices that increase your chances of success when selecting components. You can count them on one hand. But as you read through the list, think about one over-arching idea that would help you implement them:
Follow the manufacturer's direction: When written instructions get lost, people improvise and problems occur, such as insufficiently tightened tube fittings and check valves installed backwards. To be safe, operators should always be trained in proper installation practices.


Design for safety: A safe fluid system should have built-in provisions for managing leakage across the seat in all components; for managing pressure build-up in the line; and for isolating any segment for maintenance. Proper placement of gauges and rotameters is also important.


Follow standard operating procedures: SOPs should identify steps for maintenance, including how to properly de-energize and energize the line. Another good procedure is to have a qualified inspector review the line after service or an installation.


Update specifications as processes run hotter and at higher pressures: Many times, even though the fluid system has changed, components get replaced without an upgrade. Also, know what the manufacturer's ratings mean. Do they correlate with actual product performance?


Audit your fluid system for points of disrepair, wear, and damage:

Little by little tubing gets dented, gauges get broken or clamps fail. It is important to recognize that these seemingly minor points can significantly compromise safety and should be addressed as soon as possible.
---
How to know
Did you notice the strong hint in the first item? "To be safe, operators should always be trained in proper installation practices."
To get select the best components and to get the best performance out of them, you need proper training. And the best place to get it is the same place your order your parts: Swagelok Northern California. We offer training in product selection, installation, maintenance troubleshooting and other skills.
Below is a short video that shows some of the reasons Swagelok training has proved so important for multinational chemical company INEOS.
---
Swagelok Orbital Welding Training
October 28th - November 1st, Swagelok Orbital Welding Training will be held at Swagelok Northern California in our Fremont Headquarters. This course is for welders with and without orbital welding experience, supervisors of orbital welding operations, engineers, and quality control.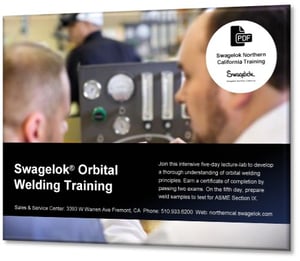 Join this intensive five-day lecture-lab to:
Develop a thorough understanding of orbital welding principles
Learn how to operate the Swagelok Welding System
Get plenty of hands on experience welding with the Swagelok Welding System
Earn a certificate of completion by passing two exams
On the fifth day, prepare weld samples to test for ASME Section IX Qualification
---
Just ask
Swagelok Northern California has a great deal of exposure to all aspects of fluid system design and engineering. Whether you have a simple question or a complex challenge, we're glad to hear from you.
---
More like this: