It's Torture: Swagelok Tube Fittings Can Handle It
by Jeff Hopkins, on 7/3/19 9:00 AM
Video shows how tube fitting assemblies shrug off intense heat, pressure and impact
---
"

The main function of a tube fitting is to grip the tubing sufficiently to contain system fluid. The tubing and fitting must remain connected without leakage at maximum working pressure.

"
---
If you liked our When Will It Burst? video series, you'll love this Extreme Testing Video from Swagelok (embedded at the bottom of this blog). It features a series of in-house and third-party tests that subject Swagelok tube fittings to extremes of pressure, heat and impact.
In one test, you'll see an assembled tube fitting and tubing under 3,000 psig of nitrogen, heated up to 1,700 degrees for a half-hour. Even though the assembly glows bright red, it doesn't leak.
Another heat test showed direct flames from multiple burners for 30 minutes. This time the tubing is filled with water that turns to steam under the intense heat. Once again, there's no leak.
---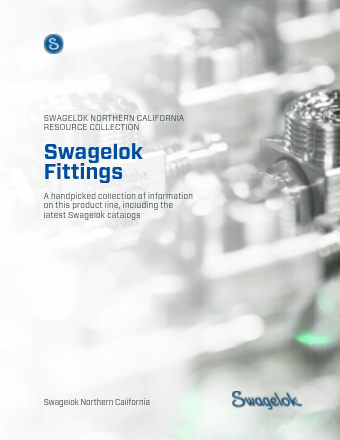 ---
Shocking
Then there's a shock test meant to simulate the effect of depth charges on submarines. A 400-pound hammer is slammed against a frame holding several tubing assemblies. The hammer comes down from distances of up to five feet, and from multiple directions. A subsequent pressure test shows everything is still in ship shape.
You'll see the reverse of our popular burst test: Putting an assembly in a tank of water and increasing the pressure until the tubing wall collapses. Even then, the fitting holds up.
There's even a test that attempts to pull an assembly apart. It takes more than 45,000 pounds of pulling force from both ends before the tubing is finally dislodged from the fitting.
Less dramatic, but no less interesting, is a look at how computers are used for finite element analysis to see how various materials respond to various kinds of physical stress.
As entertaining as the tests are, they make an important point: Swagelok tube fittings are designed and manufactured to go far beyond the call of duty. That's the foundation on which Swagelok was built.
---
More like this: