Swagelok in Action: Chiller Box Development
by Jeff Hopkins, on 2/23/17 8:30 AM
Our latest Assembly Solutions case study, features a collaboration between a semiconductor original equipment manufacture (OEM) and our Assembly Solutions team on the design and assembly of a compact chiller box.
In addition to our diverse inventory, our Swagelok Assembly Solutions team offers comprehensive custom assembly services for a range of industries. Formed in 2005, Assembly Solutions works directly with clients to help design and fabricate assemblies — of all sizes and complexities — that meet the unique needs of the application at hand.
Custom Compact Chiller Box
One of our Assembly Solutions clients is an original equipment manufacturer (OEM) in the semiconductor industry.
This client required a specially designed chiller box for the cold-temperature stages of semiconductor production. Although they had a defined set of requirements, they did not have the in-house engineering capabilities to manufacture the box themselves. The client needed it quickly, on a very tight deadline, and, because they were working with a limited budget, they had to keep costs down.
The chiller box's requirements were as follows: It needed to accommodate
a precise flow rate; because it would be handling glycol, a fluid very prone to leakages, it needed to be
completely leak-proof; it had to be capable of reaching and maintaining operational temperatures as low as -40 degrees Fahrenheit; and it needed to be able to fit into a well-defined but fairly small footprint.
To successfully complete this project, the design would have to meet all of these requirements while staying within the strict budget and short timeframe.
Results-Oriented Solutions
Ultimately, our expert Assembly Solutions team was able to provide high-performance components that meet every single requirement — while staying under budget and within the very tight timeframe — thereby helping the client avoid costly production and final shipment delays. The completed chiller boxes fit the footprint, were completely impervious to leaks, and performed perfectly.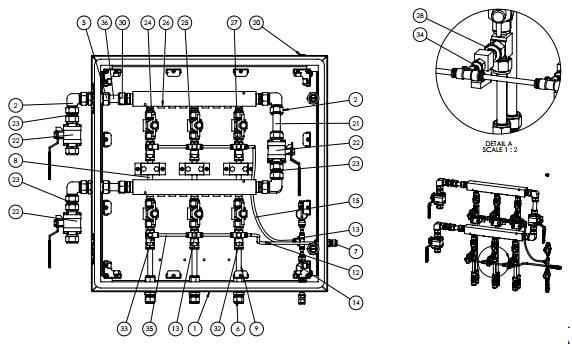 To learn more about our Swagelok Northern California Assembly Solutions team and how we can help you with your next project, download our free eBook, "10 Assembly Solutions Case Studies."