Swagelok in Action: Space-Efficient Assemblies
by Jeff Hopkins, on 11/29/16 9:00 AM
For nearly seven decades, Swagelok has been providing sophisticated products and services for a wide range of industries, including oil and gas, power, and alternative fuels. Whether starting on a CAD design or troubleshooting for existing systems, our Swagelok Assembly Solutions team is proud to offer customized assembly services to meet clients' specific needs.
Designing a Mobile Lab
One of our clients, a large utility company, managed complex operations across several locations. To ensure each location received appropriate support, they needed to implement a mobile lab service. This would allow all materials, conditions, and equipment to be carefully monitored despite being spread out across multiple locations.
None of the client's older mobile designs would fit into the new, smaller setup. The company called upon Swagelok Northern California to craft a modern assembly design that would work efficiently while fitting into a tight space.
There were several requirements to keep in mind: The system media — water — needed to be able to handle pressures upward of 5000 psig, the temperature needed to remain ambient, and the components needed to be made of 316 stainless steel.
In order to create a more efficient panel, our Swagelok Assembly Solutions team replaced the older design's needle valves with quarter-turn shut-off ball valves to make it more compact. With these new valves in place, the overall system assembly was small enough to attach to the mobile lab inside the client's van, allowing for quick, easy travel to any on- or off-site location.
Smaller Footprint, Higher Performance
Despite the initial design challenges and a lengthy decision-making process, the finished mobile lab was a great success. Once the project assembly was underway, the Swagelok team completed the solution in mere hours, streamlining the entire panel design. The finished system had a smaller footprint while still providing optimal performance.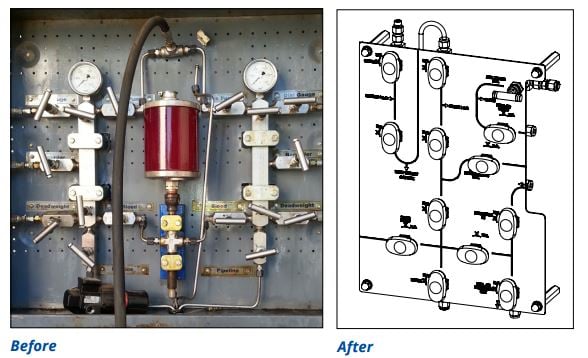 Offering unparalleled innovation and workmanship, our Swagelok Assembly Solutions team can create versatile custom designs to meet all of your unique needs. To learn more about custom assembly solutions and how they can improve your operations, download our new eBook, "10 Assembly Solutions Case Studies" today.