The Benefits of API Plan 32 Design Build For Bay Area Refineries
by Paul Lesnau, on 9/30/20 8:45 AM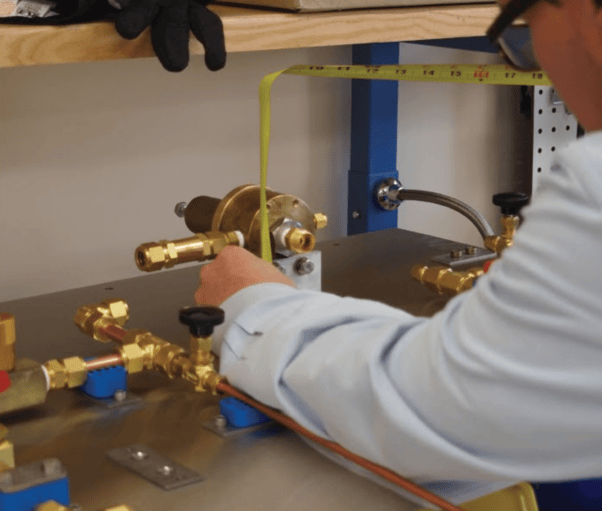 Day-to-day in Bay Area refineries, you are likely to deal with installations of nearly every API 682 Seal Plan, from the simple API Plan 11 to the more complicated API Plan 55. Although the functions and applications for each of these plans is well documented, successful implementation often requires far more than just selecting a plan from a supplier catalog.
When you need API plan 32, for instance, you might be tempted to take the project in-house but there are many factors to consider. Let's start by taking a look at what API Plan 32 provides to highlight some of these factors. I think you'll agree that, in many cases, a Design-Build is the way to go.
Getting to Know API Plan 32 Basics
When the process fluid cannot be used to provide the required flush and lubrication, your go-to is API Plan 32. It delivers clean, lubricating flush fluid to a seal chamber from an external source. Flush fluid must be delivered one bar or higher above the seal chamber and requires a close-clearance throat bushing to limit the amount of flush fluid migrating into the process fluid. So, the flush fluid must be compatible with the process fluid.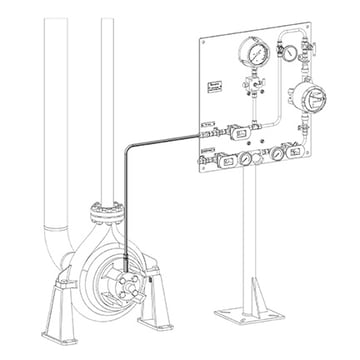 API Plan 32 is particularly applicable for the high-temperature and particulate processes described in the table below. An additional advantage of API Plan 32 is that it can supply a cooling flush to both horizontal and vertical pumps.
Application

Reason

High-temperature process fluids

A cooling flush is required to maintain a proper seal chamber environment.

Process fluids contain particulates or contaminates

A clean flush prevents degradation of the

mechanical seal

by removing solids or damaging fluid.

Process fluids have poor lubrication characteristics

A clean flush provides the required seal lubrication to prevent degradation of the mechanical seal.
This seems pretty straightforward, right? Well, there's more to it—especially for Bay Area refineries. Discounting the importance of a single factor or compromising a component for the sake of cost could actually lead to higher costs down the line. More frequent maintenance or seal failure that could result in Cal/OSHA or BAAQMD sanctions can be avoided with a rigorous design process.
That's why you should examine the benefits of a Design-Build.
API Plan 32 Design-Build Considerations
To obtain the optimum performance from the seal support system, several other factors need to be considered and that may make you lean toward a Design-Build, even for API Plan 32. I'll start with the key factors that influence the final API Plan 32 design in the table below.
| | |
| --- | --- |
| Design Factor | Effect on API Plan 32 Design |
| External flush source must provide a continuous and reliable flow | The shop water pressure can vary, occasionally falling below required seal chamber pressure. An external pump and reservoir may be needed to maintain proper pressure. |
| Flush must be delivered at 15 psi to 25 psi (1 bar to 1.7 bar) above stuffing box pressure | Configure the pressure regulator to provide proper pressure, accounting for throat bushing dimensions and flow of flush into process fluid. |
| High-temperature fluids require flush flow to provide adequate cooling | Ensure external source can consistently deliver required flush flow and temperature. Implementation may require retrofit of existing infrastructure. |
| Shop water may require filtering to prevent clogging of the flow control valve | Include filter or strainer, with optional bypass loop to ensure supply of clean flush. |
| Flush fluid must be compatible with the process fluid | If using a flush other than water, additional configuration—pump, reservoir, piping—may be required to flush the source. |
Face it, there's a lot to consider when designing a solution. That's why you can't trust the specifics to just any engineer—in-house or out. You need one who can understand the full picture of what your refinery's process requires to get the full benefit and reliability from API plan 32.
Look to Experts for API 32 Design-Build Efficiency
A refinery looking to install a new API Plan 32—or update or replace—might have the required skills to take on the task, but the required personnel are likely spread across several different job titles. There's a more efficient way to get the job done. A mechanical seal systems supplier can help refineries to design, build, test, and deliver seal support systems tailored to refinery requirements.
When it comes to implementing an API Plan 32 design and build, a skilled field engineer should conduct an on-site assessment to:
Understand the process—fluid characteristics, pump rate, mechanical seal design, and plant infrastructure
Evaluate the source, quality, and reliability of the flush fluid source
Determine how existing infrastructure (seal support system upgrade or replacement) or planned infrastructure (new installation) will affect API Plan 32 design
Based on the assessment, the field engineer will then design the API Plan 32 and provide detailed engineering drawings and technical specifications for your review. Customizations incorporated into the design to enhance reliability and efficiency may include high-point vents to clear entrapped air, low-point drains to purge flush fluids during scheduled maintenance, or bypass loops to provide a continuous supply of flush fluid when a filter is replaced or cleaned.
Upon approval of the design, certified technicians will then build the API Plan 32 according to specifications.
Yes, you might be tempted to tackle an API Plan 32 design-build project alone, but consider this: An experienced, local seal support systems supplier will design the solution tailored to your specific process needs, build the system with the highest quality components, and significantly reduce delivery time.
Locally-Built API Plan 32 Reduces Delivery Time
Swagelok's certified technicians adhere to the best practices and recommended components specified by API 682. We also follow ISO 9001 standards in applying fluid system expertise in building and testing mechanical seal support systems. Systems are built locally, from Swagelok's extensive inventory of quality components, thereby reducing the design-build-deliver cycle. Prior to delivery, all systems are thoroughly tested to ensure reliability, ease of maintenance, and safe operations. All Swagelok products are backed by one of the best Lifetime Warranties in the industry.
With Swagelok, you receive the quality, reliability, and ongoing technical support you deserve.
To find out more about how Swagelok Northern California can design and build the API Plan 32 for your specific process requirements, contact our team today by calling 510-933-6200.
---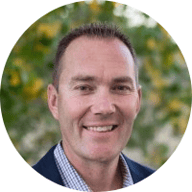 About Paul Lesnau | Sales Manager, Business Development Manager, and Field Engineer
Paul holds a B.S. in Mechanical Engineering from North Dakota State University. Before joining Swagelok Northern California, he was the West Coast Regional Sales Manager for an organization focused within the pneumatic and hydraulic industry where he supervised product distribution throughout the western United States, Canada, and Mexico. While in this role, he was able to help provide technical and application-specific expertise to customers and distribution to drive specifications.