Better By Design: Swagelok Mechanical Support Systems
by Jeff Hopkins, on 9/18/19 1:08 PM
Our designs start with all the best practices of API 682, but we take them further
---
"A lot of sites have specifications for particular things that they want to use, and we adapt to that"
- From Swagelok mechanical seal support systems for API 682 are better by design (Video below)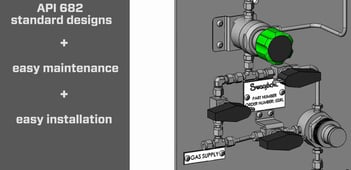 Swagelok seal support systems designs start by incorporating all the best practices of API 682, and then we take everything one step further. We incorporate design principles that make our systems easy to install and maintain.
When we were designing these seal support systems, we wanted to keep a number of things in mind. At the top of the list, we wanted to make sure that if and when a component needs to be maintained or replaced, it would be easy for the maintenance crew to do so. For example, all of the gauges include single block and bleed manifolds. This allows all of the gauges to be removed or calibrated in place while the system is still operating.
The Plan 32 system, which is traditionally piped up in the field using components, we've chosen to construct into a panel assembly. That allows for easier assembly and maintenance in the field later on.
We also offer a unique option with our seal pot systems: a fill tube that allows the seal pot to be refilled from ground level. This eliminates the need for ladders and lifts, which can be a safety hazard when refilling at elevation.
Adaptability
A lot of our customers have specifications for particular things that they want to use, and we adapt to that.
Among the tools that we have developed for that are configurable CAD files. They can configure any standardized system very quickly and allow it to serve as the basis for any customization that our customers might need.
It's also crucial to have Swagelok Northern California right nearby, because the problems created by a poor seal support system are immediate and severe. Pumps get knocked out of operation. Being local means that we have critical spares on hand and can respond to these issues as quickly as possible.
Reliability is important when you have a pump that's an important moneymaker — or a big time sink when it's not making money.
We have a short video that shows you what we're talking about.
---
Just ask
Did you looked it over? We'd be glad to talk with you about your mechanical seal system support needs. A phone call to 510-933-6200 or a note sent through our website is all it takes to get started.
---
More like this: