A New Pocket Guide to Swagelok Hose
by Jeff Hopkins, on 1/24/18 9:00 AM
This slim reference is packed with essential details
---
This new guide is useful because we offer so many hose and flexible tubing options. I can't wait to get it in customers' hands.

- Annamarie Armstrong, Account Manager, Swagelok Northern California
---
We have posted before about the advantages that hose offers over rigid materials such as piping and tubing. With hose, you generally have fewer connections, aren't limited to straight lines or angles, don't have to worry as much about cutting to an exact length, and minimize welds.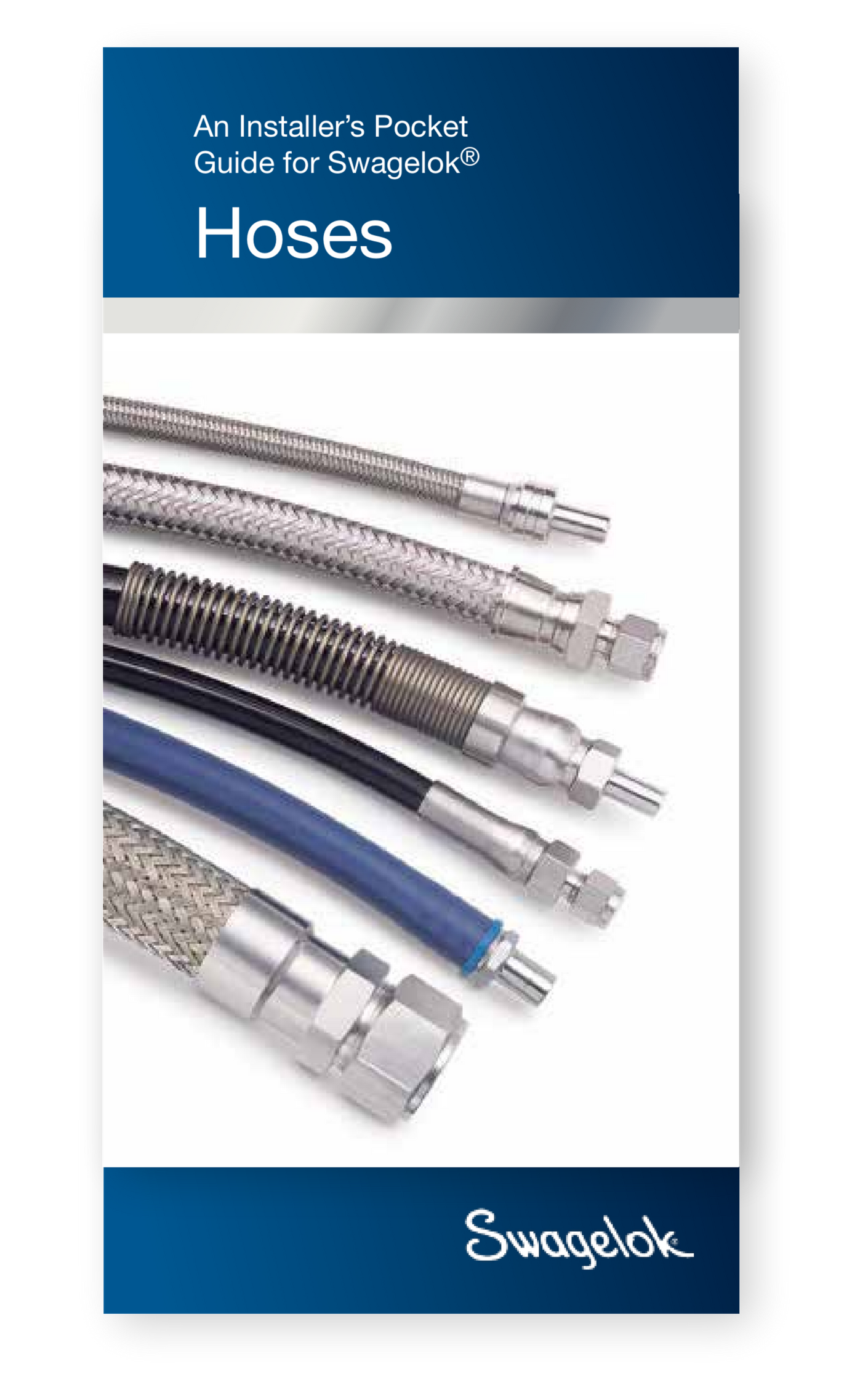 But which hose is right? Swagelok offers 18 series, with variations within each series (more on this below). They come in sizes ranging from 1/8 inch to 2 inch. There are at over 30 possible end connections. And then there are at least 17 hose options and accessories.
To put knowledge at your fingertips, we created An Installer's Pocket Guide for Swagelok Hoses. It is slim enough to go in your pocket, but packed with essential information like:
Which hose material is best in which environments
A chart on working pressures and temperature ranges
Guidance on installing and inspecting hose
Hydrostatic testing, lanyard tags, and other options
If your company is in northern California or northeastern Nevada, we'll deliver you a copy at no charge. Just click the button and fill a form to place your request:
---
Narrowing the field
Hoses can be made from different materials and with a variety of reinforcement layers and end connections. Our guide gives a quick overview of the four main components in a hose:
Core tube material and construction
Reinforcement layers
Covers
End connections
The pocket guide shows which materials are usually best for various environments. And don't worry if you haven't yet memorized all the terms and jargon associated with hoses. The pocket guide has a glossary.
Industry considerations
Does your industry typically use a certain type of hose for common processes? The guide goes through more than two dozen industries, listing typical hoses for applications such as steam lines, environmental sampling, hydraulic lines, shop air and dielectric media.
We also cover a few non-industry specific factors such as static dissipation and conductivity. A handy chart makes it easy to see which series of Swagelok hose falls into which category.
The section on hose selection also has a chart for finding the working pressures and temperature ranges for various types of hose in various sizes.
Once you have zeroed in on the type of hose you need, you can move on to the sections that offer detailed pressure and temperature ratings for each series of hose. You'll find ordering information for each series so that you get exactly what you want, including options such as hydrostatic testing and lanyard tags.
Installation and maintenance
Proper installation is only the first part of the equation. In addition to proper installation, you need inspection and maintenance. In our pocket guide you'll learn how to take factors into consideration such as vibration, shelf life, bend radii and motion absorption.
When you conduct periodic inspection of your hoses, the pocket guide tells you what to look for, such as blistering or discoloration.
Helping hand
The new pocket guide is only one convenient way that Swagelok can help you with hoses. Swagelok Northern California has hose experts who can answer detailed questions and discuss the particular applications you have in mind.
We stock a range of high-quality hose and tubing products that can be built and customized for all your fluid system needs. Every Swagelok hose is assembled using standardized equipment, the same tight tolerances, and the same high-quality standards and standard work practices.
For many PTFE and PFA core assemblies, Swagelok uses a proprietary crimp design technology to permanently attach end connections to hose. On all-metal hoses, we weld end connections in accordance with ASME Boiler and Pressure Vessel Code Section IX. Our push-on PB series hose can be assembled in the field, without the use of hose clamps due to the unique design of the hose barb and reinforcement within Swagelok PB series hose.
What's next: After you request the pocket guide, visit our Hose Assembly ("Hose My Way") page:
(Prefer to talk live? Please give us a call at 510-933-6200.)
---
More on this topic: