Be Flexible: Hose Is Great For Many Applications
by Jeff Hopkins, on 7/17/19 1:21 PM
It's fast, it's flexible, and can come with a wide variety of end connections
---
"When you go to vacuum in the airlock and you take the hose off the front of your space suit, there's a little bit of water in there, and you can see that sublimate and ice crystals form and fly away. My thought at that moment was, 'Oh, we are not kidding at vacuum here; we are really in space"
- From Kathleen Hallisey Rubins, a NASA astronautet
---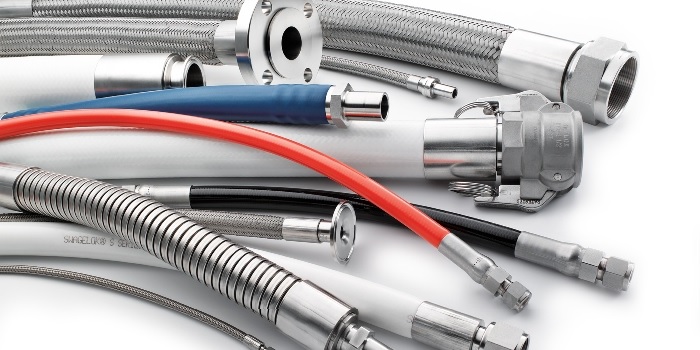 Flexible hose may be one of the most under-used components in power plant and refinerys, refineries, and other general industrial and manufacturing environments. Many technicians and engineers don't realize how far hose technology has come. Now, with the latest advances, you can use hose in many places historically limited to tubing or pipe.
The principal benefit of hose is easy installation and easy replacement of adjoining components like valves. It's just a lot easier to work with hose than with rigid tubing or hard pipe because there is no bending, welding, or fitting. As a result, you will save a lot on your labor costs. Installing it takes a matter of seconds – minutes at most.
Hose is especially appropriate for short connections between movable parts, parts in high vibration, or parts that need to be frequently connected and disconnected.
In power plants, refineries, and other general industrial and manufacturing environments, that makes hose an excellent choice for:
Compressed and instrument air applications
Connections to compressors, pumps, or other devices that cause vibration
Connections to pneumatic actuators on large control valves
Chemical tote offloading equipment
Hydraulic and lube oil applications subject to vibration
Pressurized gas delivery from tanks and cylinders
Sample analysis systems that draw fluid from process lines
Natural gas, diesel, or liquid fuel handling applications
What's in a Hose?
Typically, hoses consist of a core, reinforcement, covers, and end connections (Figure 1). Core materials may be metal, fluoropolymer, thermoplastic, or rubber. Many power plant applications employ stainless steel cores, which offer corrosion resistance and high-temperature compatibility – up to 850˚F (454˚C).
Reinforcement layers – often stainless steel woven braid – improve pressure containment and flexibility. With stainless steel braid, hoses available from Swagelok can manage pressures up to 3500 psig. Stainless steel braided reinforcement layers also prevent easy cutting – whether accidental or purposeful.
In semiconductor fabs, a silicone cover and insulation is often added in high-temperature applications to greatly reduce the likelihood of burns on contact.
Hoses can be fitted to a wide range of end connections, including tube adapters, tube fittings, VCR metal gasket face seal fittings, VCO O-ring face seal fittings, swivel fittings, NPT pipe threads, pre-swaged nuts and ferrules, tube butt welds, flanges, Kwik-Clamps, cam and groove, tube stubs, and more.
---
---
When Should You Use Hose?
There are many places where hose pays for itself very quickly.
Connections Requiring Complex Tube Bending: Tube bending is not difficult, but it does require some tools and training. If you don't have them, it may be advisable to go with hose. Sometimes a replacement part does not have the same dimensions as the original, and the original section of tubing or pipe does not quite align with the new connections. You can sidestep frustration with hose.
Applications with Severe Vibration: Hose can manage vibration stress better than tubing, especially under high pressure. Frequent vibration may stress tubing to the point of fracturing. A run of hose can dampen vibration between the source and the rest of the tubing assembly. All you need is an end connection that can handle vibration. For example, Swagelok tube fittings are designed not to leak with vibration.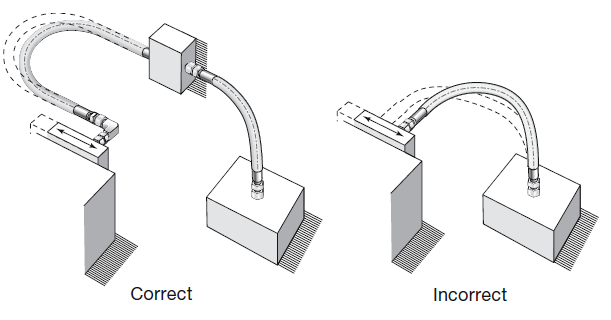 Temporary Connections: Hose is an excellent choice for water sampling, chemical sampling for analysis, or for offloading chemicals from totes. It bypasses alignment issues associated with rigid pipe or tubing, and it can attach with a cam-lock or quick-connect (Figure 2).
Moving Parts: The pneumatic actuators on some large control valves move up and down and therefore require a flexible connection to the compressed air source. An example would be control valves for oxygen fuel dampers. There are many other such applications in a power plant or refinery.
Parts Requiring Frequent Replacement or Servicing: When connected with Swagelok tube fittings, hose can be disassembled and reassembled with the turn of a wrench. Gas turbine inspections, for examplel require frequent assembly and reassembly of components, and hose makes this easier. If the hoses need to be changed out, it's a relatively simple process. You don't have to worry about an alignment issue.
Get it quickly
Swagelok hose is available in custom lengths up to 100 feet, in diameters 2 inches and under, and with a wide variety of end connections.Standard sizes and end connections ship within 24 hours.
With the proper selection of material options, hoses are completely dependable in a wide range of pressures and temperatures.
---
Just ask
Swagelok Northern California has a great deal of exposure to all aspects of fluid system design and engineering. Whether you have a simple question or a complex challenge, we're glad to hear from you.
---
More like this: