FAQ: What's the pressure rating of a Swagelok tube fitting?
by Jeff Hopkins, on 4/30/14 8:00 AM
We break down the answer into three parts, introduce you to our "When Will It Burst?" series of videos, and point the way to more information.
---
To clearly and thoroughly answer this question, we'll make three quick points:
1. The lowest-rated component is key
The pressure rating of a Swagelok tube fitting depends on the lowest rated component in the system in which it is installed. Sometimes the lowest pressure rated component is a pipe thread, a pressure gauge, or a valve. Other times it will be the pressure rating of the tubing itself, and that will vary depending on the tubing's size, wall thickness and material of construction.
Learn more in the Swagelok Tube Fitter's Manual (free download):
2. Tubing material is a factor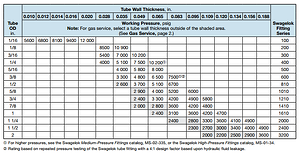 Swagelok provides tables with the suggested allowable working pressure and suggested ordering information for tubing to be used with Swagelok tube fittings. The key to selecting proper tubing for use with metal Swagelok tube fittings is that the tubing must be softer than the fitting material. Swagelok tube fittings are designed to work properly with the tubing that is suggested in the ordering instructions.
Get the Tubing Data Sheet with allowable working pressure tables (free download):
The tables show working pressure ratings of tubing in a wide range of tube wall thicknesses and outside diameters. Swagelok tube fittings have been repeatedly tested in both the minimum and maximum wall thicknesses shown in the tubing data tables. Swagelok tube fittings are not recommended for tube wall thicknesses outside the ranges shown in the tables for each size.
3. Installation affects performance
In basic tube fitting installation seminars conducted by Swagelok, trainees assemble a piece of tubing and a standard fitting. On average, more than half of trainees install the fitting improperly. These aren't noobs... most have been in the field for years!
Brush up on fabricating, choosing tubing vs. pipe, applying thread sealants and lubricants, and more with experienced, Swagelok-certified trainers:
Learn more in "When Will It Burst" videos
A few years ago we were brainstorming ways to create greater engagement with our customers in a fun and informative way. Rod Fallow, the President of Swagelok Northern California, had recently watched one of the Blendtec "Will It Blend?" videos, and he was impressed by the creativity of taking a household appliance and making a must-watch video out of it. Add to that: I am a longtime fan of David Letterman's "Will It Float?" sketches, and if you have not seen Arnold Schwarzenegger's "Will It Crush?" videos, you are missing out. Combine those ideas with the tube burst demonstration that we often do at our Tube Fitting Safety Seminars, and an idea was born.
In our training course, we often burst the tubing live, so attendees find out the actual burst pressure immediately after guessing. When Will It Burst? videos provide an added dimension of suspense because each video sets up a burst demonstration and contest, but the actual burst pressure is not revealed until the next video. This allows you time to enter a guess, and us to time to update the next video so we can reveal who won. We are trying to provide you a little fun while you learn about fluid systems.
We ended up producing nine videos, and we released them every two weeks on When Will It Burst? Wednesdays. If our readers and viewers give us an enthusiastic response, we may make even more. We would appreciate suggestions on what to burst. Keep in mind, though, that we need to be able to connect the object to a tube fitting or other connection in order to pressurize it.
(It's not always as easy as you might think! Look for the outtakes video that shows some of our failed burst attempts. Tubing and hose were easy to burst, but it's a lot harder to burst something that's not normally part of a fluid system.)
---
Help me choose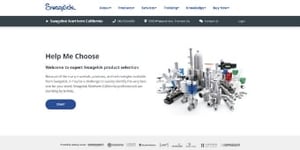 Because of the many materials, products, and technologies available from Swagelok, it may be a challenge to quickly identify the very best one for your need. Swagelok Northern California professionals are standing by to help.
---
Build it for me

Outsourcing assembly to Swagelok Northern California enhances safety, often lowers total cost, simplifies logistics, and shortens turn times. And, learning about your best options costs nothing.
---
More articles like this: