Swagelok engineer provides a realist's guide to materials selection
by Jeff Hopkins, on 12/16/15 8:00 AM
Tips on materials selection from former Swagelok Northern California Engineer Neil Ide [posted by Jeff Hopkins].
Has this ever happened to you? You assemble a system using the finest 316 stainless steel components, put the system in operation and pat yourself on the back for a job well done. Days or weeks of flawless operation go by. Then one morning you notice rust coming through the joints.
What?! How is this possible!?
You likely have a chemical compatibility issue. It's easy to get used to the fact that Swagelok specifications for stainless steel are by far some of the most corrosion resistant stainless steels you can buy. Stainless steel alloys are corrosion resistant to many things... but not everything.
Nitric acid? Sure. Sulphuric Acid? Think again.
You may have also been one of the many to reach for Inconel alloy or Hastelloy C-276 to solve the problem and were revived in the hospital days later after an uncontrollable heart attack caused by the incredible difference in price less than a second after your eyes reviewed the quote.
Every problem has a solution and it doesn't have to cost you an arm and a leg to solve your problems.
Check the charts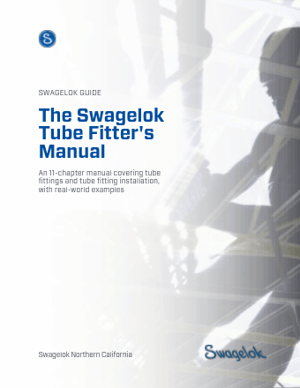 Chemist Frank Westheimer sarcastically once said: "A month in the laboratory can often save an hour in the library".
You can avoid a lot of headaches and expense on your own by checking Swagelok's chemical compatibility charts. We have charts that show which materials are most compatible with over three hundred different chemicals. We've done the research, all you need to do is read the results. You'll find a whole section in the Swagelok Tube Fitter's Manual dedicated to chemical compatibility:
With so many combinations of chemicals and materials, we don't expect anyone to keep all this information in their head.
We tend to remember the information that we use the most often, and forget about the rest. If you are working with hydrogen, nitrogen or compressed air, you typically don't have to think about chemical compatibility. But it's good to remember that the resource is out there.
When you build a house, you paint it
Aside from just looking cool, a coating can add a whole range of new properties to a material. One such coating is called Dursan®. It's a silicon based nano-coating applied to stainless steel using chemical vapor deposition, giving it corrosion resistance at temperatures that PTFE can't handle, and at a fraction of the cost of a nickel based alloy.
Dursan also has hydrophobic properties resisting sludge buildup and reducing surface adhesion. Next time you need a valve or fitting with additional corrosion resistance, consider asking us if it can be coated with Dursan®.
So the next time you find yourself having to deal with unfamiliar chemicals, take advantage of the expertise at Swagelok Northern California. Whether in print or in person, we can help you find the best materials for the job, and try to save you some money along the way.
Download the latest edition of the Swagelok Tube Fitter's Manual to access chemical compatibility charts and other resources here:
---
About the author
Neil Ide has always been fascinated by the technical side of things. When he grew up, Ide served on Navy submarines as a nuclear plant operator. At Bloom Energy, a startup that makes power generation systems based on fuel cells, he worked with the R&D science teams to develop and build test equipment. At Swagelok California, he built up the assembly solutions program to handle more complex assemblies and created the popular Customer Briefing Center in our Fremont office.
---
More articles like this: