FAQ: Should I fill a Swagelok pressure gauge with liquid?
by Jeff Hopkins, on 12/12/13 8:00 AM
Some Swagelok pressure gauges can be liquid filled. Learn the benefits of a liquid-filled pressure gauge and an alternative to liquid filling.
---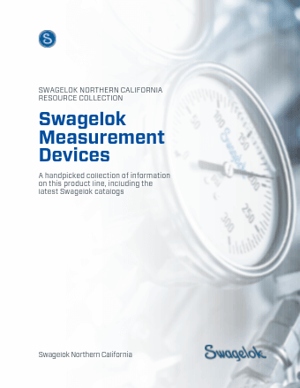 Sometimes it's a good idea to use a liquid-filled pressure gauge. Sometimes it's better to use a dry gauge. The decision really depends on your specific application.
Dry pressure gauges do fine in many applications, as long as they are installed in a location in your system where:
Temperature fluctuations and vibration are minimal AND
Flow of the pressurized medium is even and continuous
The leading cause of pressure gauge failure is vibration. In a dry pressure gauge, the sensitive internal components can be damaged by vibration and pressure spikes. Also, moisture and humidity can cause problems for dry pressure gauges. Just like your car windshield on a cold morning, condensation can fog up a dry pressure gauge making it difficult to read.
Four benefits of liquid filling
The liquid absorbs vibration and pressure spikes
The dampening action of the liquid enables the operator to take an accurate reading during conditions of pressure oscillation and vibration
The liquid lubricates the interior moving parts of the pressure gauge, dramatically reducing the effects of wear and extending the lifespan of the pressure gauge
Because most liquid-filled pressure gauges are filled with non-aqueous liquid and are hermetically sealed, they perform well in corrosive environments and prevent moisture penetration, fogging due to condensation, and icing
Choosing the fill liquid
Swagelok offers several liquid-fillable pressure gauge models, with three standard fill liquid options:
Glycerin
Low-temperature glycerin, and
Silicone oil
(Other fluids are available through custom ordering)
Due to its higher viscosity, glycerin is commonly used in room-temperature applications. Silicon oil and low-temperature glycerin are often used in applications with temperature fluctuations or when icing is a problem.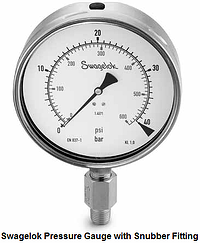 Also, for pressure gauges 60 psi and under, low-temperature glycerin or silicone oil is the better choice because the lower viscosity allows the gauge pointer to move through the liquid more easily, and respond quicker to system pressure changes.
Snubber fittings are an alternative to liquid filling
What if you need to minimize the effects of temperature and pressure fluctuations and vibration, but need an alternative to liquid filling gauges? Consider using snubber fittings -- also known as dampeners. They protect gauges and other instruments from system pressure surges and shocks.
Pressure damping (snubbing) is accomplished through the use of a porous sintered 316 stainless steel element. Installing a Swagelok snubber fitting upstream from the gauge reduces the gauge's response rate. The response rate generally varies with the initial pressure drop across the porous element of the snubber fitting and allows the gauge to reach line pressure smoothly.
With five basic elements available, snubber fittings can meet the requirements of fluid applications ranging from light gases to liquids with viscosities above 1000 SUS (Saybolt universal seconds) (220 cSt [mm2/s]). Element designators are stamped on all fittings for proper identification.
---
Help me choose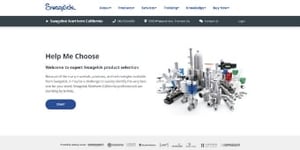 Because of the many materials, products, and technologies available from Swagelok, it may be a challenge to quickly identify the very best one for your need. Swagelok Northern California professionals are standing by to help.
---
Build it for me

Outsourcing assembly to Swagelok Northern California enhances safety, often lowers total cost, simplifies logistics, and shortens turn times. And, learning about your best options costs nothing.
---
More articles like this: