Why a Gas Sampling Bomb for Hydrogen Should Come From a Local Vendor
by Morgan Zealear, on 7/27/21 1:30 PM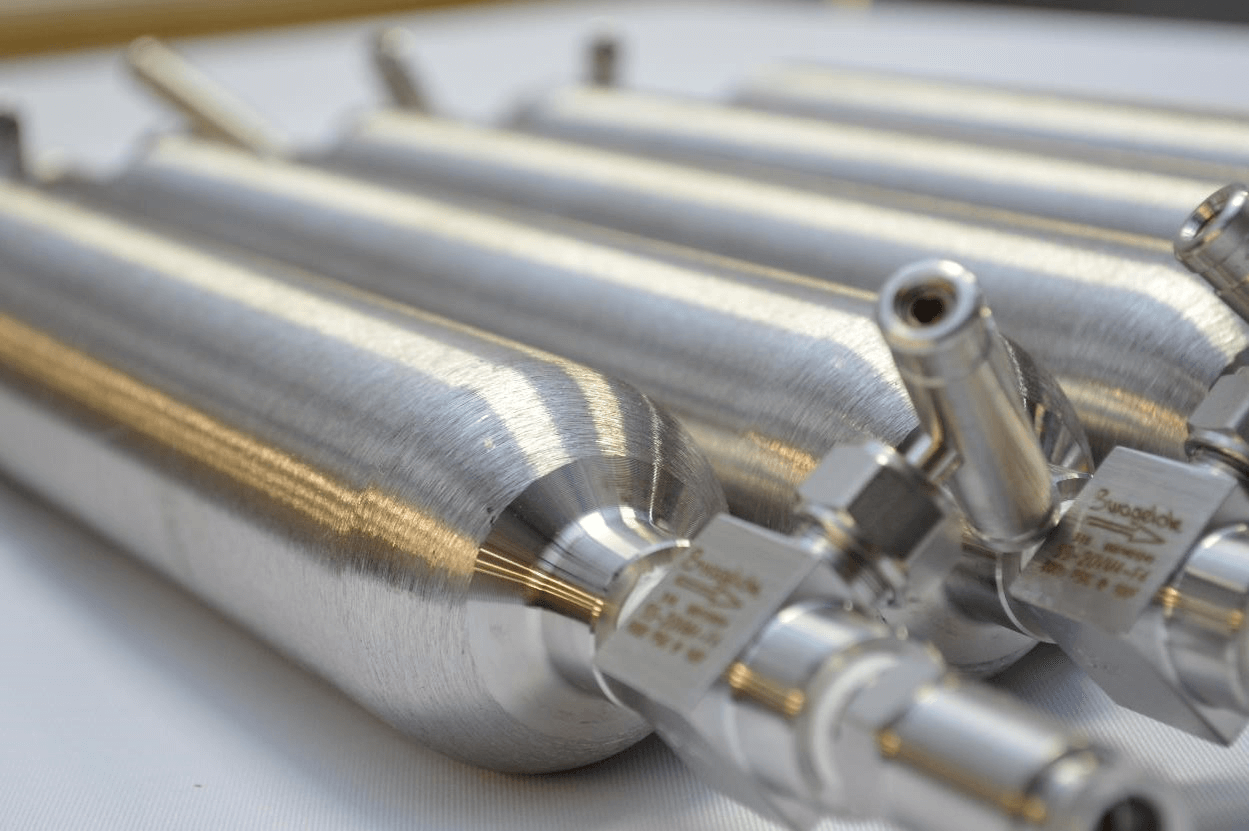 With hydrogen becoming an increasingly important source of clean energy, refineries that are retooling to increase hydrogen production, as well as start-up producers entering the market, will have an increased need for hydrogen sampling. In many instances, spot sampling occurs when a volume of hydrogen is taken at high pressure using gas sampling bombs and then transported to a laboratory for analysis. Considering the frequency of samples, an adequate supply of gas sampling bombs is important in keeping the production process running. A shortage of gas sampling bombs can delay sampling. If an upstream process is problematic, it can result in the production of a substandard product. A sampling delay or contaminated sample can lead to dissatisfied customers and possible sanctions.
Process and quality control engineers can rest easier when they know that there's an adequate supply of clean gas sampling bombs on hand, and in the event there's a need for additional gas bombs, they can be obtained quickly. Working with a local grab sampling system vendor is the best way to achieve this level of assurance. A local vendor is not only convenient, but they can also provide technical recommendations that help ensure consistent representative hydrogen gas samples. But first, let's discuss the various options when configuring gas sampling bombs for hydrogen.
Gas Sampling Bombs for Hydrogen: Multiple Options
Hydrogen is a small-molecule gas that easily escapes through microscopic openings and diffuses into materials designed to contain it. In dealing with gas bomb sampling for hydrogen, a local vendor can provide value, well beyond simply supplying gas sampling bombs. Field Engineers, experienced in consulting on a wide range of gas sampling systems, can conduct a plant visit, assess the hydrogen sampling requirements, and recommend the options best suited for the sampling process. Options may include:
Sizes: gas sampling bombs are available in 150, 300, 400, 500, and 1,000 cm3 volumes
Materials: seamless tubing produces consistent wall thickness and can be 304L or 316L stainless, 400 alloy, or alloy C-276
Coatings:

electropolishing, PTFE coating, or SilcoNert® can be used to reduce sample gas absorption and adsorption into the sample bomb's surface, and make it easier to purge sampling bombs of residual fluids

Handles: a convenient and safe way to transport gas sampling bombs; available for 300 cm3 and larger bombs
Markings: permanently marked with department, process, location, or serial numbers; as a precaution, gas sampling bombs are not marked with the intended contents
Safety: Outage tubes provide a vapor space, allowing pressurized hydrogen gas to expand when the ambient temperature increases. End caps protect gas sampling bomb valves from damage whenever the bomb is not attached to the sampling station.
Levels of DOT Certification: various levels of DOT certification including DOT-3A 5000, DOT-3E 1800, DOT-3A 1800, DOT-SP7458 1000, DOT-4B 500.
With the guidance of an experienced Field Engineer, you'll obtain gas sampling bombs for hydrogen that are ideally configured with options that enhance safety and sample consistency for each of your sampling processes.
Options to Improve the Hydrogen Sampling Efficiency and Quality
An on-site visit by a Field Engineer can also identify opportunities to improve the efficiency of the hydrogen sampling process. When you're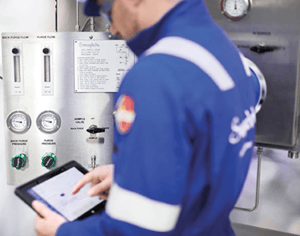 capturing hundreds to thousands of samples, even the smallest improvements in sampling efficiency can add up to long-term cost savings. Two options to consider are quick connections and a purge bypass tube.
Stainless steel quick-connects facilitate safe and easy attachment and detachment of gas sampling bombs from sampling stations. Quick-connects can easily handle the high-pressure hydrogen sampling and offer unrestricted flow for gas transfers. Quick-connects can be keyed to prevent accidental intermixing of different lines in multi-pressure or multi-fluid systems.
Purging helps ensure the capture of representative, contamination-free hydrogen samples.
A purge bypass tube allows inert gas such as nitrogen to circulate through the sampling station connections to remove residual sampling gas before or after taking the hydrogen sample. The inert gas and any residual gases are then purged to vent.
Swagelok: Your Local, Experienced Vendor
Swagelok offers a wide range of system components for hydrogen applications in the energy industry, and infrastructure for hydrogen production, transport, and storage. Swagelok products are well suited for hydrogen systems due to their leak-tight components, material compatibility, and high-pressure resistance.
With a presence in Northern California, we can provide on-site consulting to assess your gas sampling bomb requirements. Our extensive inventory of high-quality components and certified technicians with years of experience fabricating sampling systems allows us to quickly deliver gas sampling bombs for hydrogen as well as complete grab sampling systems tailored to your facility.
To find out more about how Swagelok Northern California can meet your requirements for gas sampling bombs for hydrogen by providing expert consultation, products, and assembly services, contact our team today by calling 510-933-6200.
---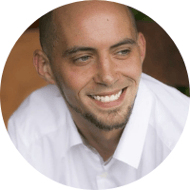 Morgan Zealear | Product Engineer – Assembly Services
Morgan holds a B.S. in Mechanical Engineering from the University of California at Santa Barbara. He is certified in Section IX, Grab Sample Panel Configuration, and Mechanical Efficiency Program Specification (API 682). He is also well-versed in B31.3 Process Piping Code. Before joining Swagelok Northern California, he was a Manufacturing Engineer at Sierra Instruments, primarily focused on capillary thermal meters for the semiconductor industry (ASML).