Give Your Tubing All The Support It Deserves
by Jeff Hopkins, on 2/6/20 8:45 AM

A well-designed and supported system fends off shock and vibration


---
"Tubing may be inappropriately used as a support for other objects,
which may lead to damaging the tube."
- From Swagelok Tube Fitter's Manual
---
As light and as flexible as tubing may be, it still needs adequate support so that your fluid system will stay leak-free. And while you may know that intuitively, you still might not be sure how much support is enough, or where it is needed most. That's OK. Swagelok Northern California has the information you need to do the job right.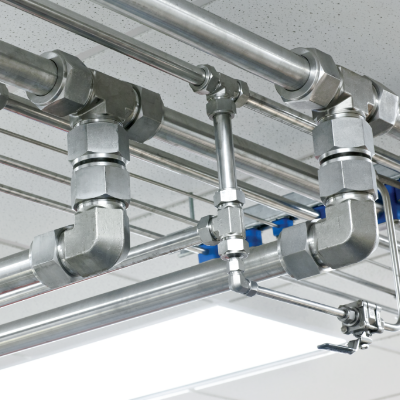 When and where
When does tubing need some extra support? Any time you have long runs of tubing you run the risk of sagging. The heavier the fluid in the system, the more support the tubing needs. The Swagelok Tube Fitters Manual has tables that show the proper spacing of supports for various diameters of tubing in various types of service.
For instance, half-inch tubing should have clamps every five feet. For one-inch tubing, you can space the clamps seven feet apart.
It's also vital to take impulse and vibration into account. They make tubing move more than it should, so you want to install supports that limit movement.
Supports are also needed around elbows, tees, bends, and heavy in-line objects such as valves. All tubes should be clamped on both sides of a bend, as close to the bend radius as possible.
Options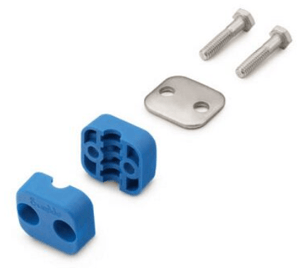 Bolted plastic clamp supports offer versatility for mounting tubing and pipe. In addition to absorbing shock and vibration, they resist many chemicals and corrosives.
They resist ultraviolet light too. We have them in three support kit configurations: single, twin, and single stacking. With the single stacking kit you can stack up to three single bolted plastic clamp supports. The top support uses a cover plate. The lower supports use a lock plate.
We also offer them in three mounting configurations: weld plate, mounting rail and rail nuts, and strut nuts. For the weld plate option, the nuts are welded to the weld plate not press-fitted. With the mounting rail and rail nuts, you can add or remove nuts as needed anywhere along the rail span. Neoprene caps hold the nuts and support body in place. Strut nuts are for use on 1 5/8 inch strut rail mounting systems.
We also offer cushioned clamp tube supports for channel mounting, and polypropylene tube support strips for organizing multiple tubing or hose runs.
Or you might only need a simple P clamp. It's an economical way to support tube or hose runs in a variety of sizes, and all you need is a single screw or bolt to attach it to a wall or an equipment frame.
By design
Strong supports are not a substitute for good design. Tubing is not meant to support the weight of valves, regulators and other components. Those components should be mounted. It's also important to avoid placing tubing where it would make a tempting handhold.
---
Just ask
Swagelok Northern California has a great deal of exposure to all aspects of fluid system design and engineering and with the right supports in the right places, your fluid system will be even more reliable and easier to maintain.. Whether you have a simple question or a complex challenge, we're glad to hear from you.
---
More like this: