Meet Corey Gould, Product Manager of Services for Swagelok Northern California
by Jeff Hopkins, on 11/29/17 8:45 AM
He can't stand inefficiency, and that's good news for our customers
---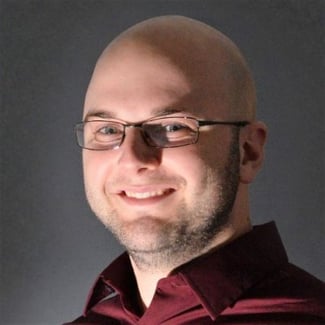 From Swagelok Training to Hose Advisory to Vendor Managed Inventory (VMI), Corey Gould is our services champion, always looking for ways to help customers be more efficient and get the highest return possible on their Swagelok investment.
---
Curiosity
You know those kids who like to build things with Lego blocks? The kind of kids who itch to take things apart just to see how they work? Corey Gould was one of them. And his father, a mechanical engineer, encouraged Gould to scratch that itch.

Even today, he's still interested in seeing how things work and making them work better, be it an object or a system. When he was one of our customer support representatives, Gould created our Product Wizard, which lets us find parts in our inventory that serve our customers' needs more quickly than ever before- without requiring special orders. He also created an automated stock location history database for our warehouse team, saving them hours each day in what would have otherwise been tedious manual records.
That kind of initiative is one of the reasons we gave him a new title about a year ago: Product Manager, Services.
Milestones
Since Gould started his new job, we've made some big strides in the services we offer. Probably the biggest example of growth is our orbital welding class, which includes an ASME Section IX qualification for attendees - a required qualification for any orbital welding that has to meet the California Building Code, California Fire Code, and a number of other ASME and SEMI standards. This year we've hosted three sessions, something we have never achieved before.

"We are getting the message out there that you are expected to have that qualification," Gould says. "A lot of times people are not aware, or think it's enough if the person inspecting the weld is qualified. Not so."
"Where there is a problem or an inefficiency, I can't help but try to fix it."
Evaluation and advisory services
We also have beefed up our Evaluation and Advisory services. That category includes our hose advisory service: We'll go out to a customer site, assess their hoses and furnish a report that details what's being done well and what could be improved. "Too often, customers don't use hoses properly, or don't realize that how they are routed has a significant impact on their life cycle", Gould says. That means premature failures and extra costs. We will recommend a series of best practices, with special attention given to proper routing and hose selection for the application.

Another service in this category is our Compressed Gas Leak Detection Service. Again, we go to the customer's site, this time with various leak detection tools for gases and compressed air. We'll inspect up to 250 connections for free through our Energy Emissions Survey program.
Looking ahead
Gould continues to look for ways to bring our customers even greater value. An area of focus for 2018 is online learning that will give our customers access to courses on fluid systems and the components that are used to contain and convey them. An example of this is how ball valves work and why they might be a better choice than say, a needle or diaphragm valve for a specific application.
We also have the goal of bringing more live training to our customers like the orbital welding class. Other classes include: Process Analyzer Sampling Systems, Advanced Tube Bending and many others.
If there's a common theme to all of Gould's work, it is Swagelok Northern California's commitment to continuous improvement.
"Where there is a problem or an inefficiency, I can't help but try to fix it. Sure, it makes things easier for our associates in the future," Gould says, "but more importantly, every improvement we make benefits our customers' experiences".
---
additional resources
---
get in touch
In a hurry or have a question? Please click here to get in touch - we respond fast! Or call 510-933-6200.
---