More On Threads: Pressure, Tolerance And Corrosion
by Jeff Hopkins, on 6/26/19 9:00 AM
A few extra thoughts on getting a good seal and making sure it stays that way
---
"Every male thread Swagelok produces is installed with a plastic protective cap for shipping. Protective covers keep threads from being accidentally dented or otherwise marred. A dent in a male pipe thread is a time bomb."
- From Nice Threads! Make Sure You Keep Them That Way
---
While a good seal is always vital when joining pipe threads, some seals are more straightforward than others. Today let's look at some circumstances when life gets a little more complex.
Plastic on Metal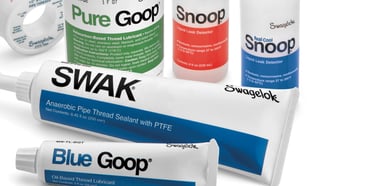 Assembling a metal fitting into a plastic body part is very common when putting a high-flow filter into a cooling water system.
Female tapered threads in plastic typically have significant sealing issues. Tighten the fitting too much and the plastic body will split ruining
the filter. Tighten too little and it will never seal. Female tapered threads in plastic are typically a looser fit compared to metal, because of this it helps to go thick by using a combination of PTFE tape and SWAK to fill the gaps.
Parallel Threads and NPT O-seal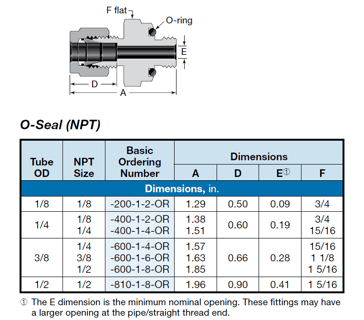 Parallel threads are gaining popularity, and for good reason. The main advantage is that they seal against an O-ring and with little assembly torque.
The main disadvantage is that there are still a large number of devices on the market that simply do not have parallel thread fittings available.
Parallel threads are made in three main standards:
SAE (Society of Automotive Engineers), BSPP (British Standard Parallel Pipe), and Metric. Both SAE and Metric threads follow fastener thread standards, so if you have a tap set you can likely cut several SAE threads. BSPP is used less often but is still quite common. BSPP threads are most commonly identified with a "G" prefix to the fitting size.
To provide a compromise for NPT availability versus O-ring seals, Swagelok offers NPT O-seal adapters. A special parallel thread adapter with a captured O-ring seal allows for installation into female NPT fittings.
Sealing Pressure
A very common question during customer fluid systems training is about the pressure rating of various thread sealing materials. For the most part, the rated pressure of a pipe joint is determined by the rating of the pipe itself or the components used. Swagelok PTFE Tape Pipe Thread Sealant does not have a rated maximum pressure. SWAK and PTFE-free liquid sealant are both limited to 10,000 PSIG. That being said, if you are designing a system to go beyond 10K PSIG it's better to avoid threaded fittings altogether and use high-pressure tube fittings.
Assembly Tolerance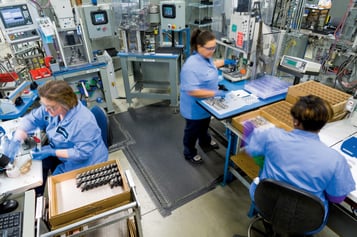 During the design phase an extremely common error is not allowing for enough space between components with tapered thread fittings. Both NPT and BSPT standard threads are incredibly unpredictable when designing the final position of a fitting in a joint. The distance can vary based on the materials used, the amount of thread sealant applied, and the amount of torque used to assemble the connection. When you are tight for space and trying to get a lot of components closely packed together consider this variability in total length with tapered fittings so you don't run out of space during assembly.
Corrosion and Chemical Compatibility
Far too often, we get calls about severe corrosion causing leaks in a fluid system. Leaks are bad, gushing leaks are worse, and gushing leaks that shut down a factory can cost hundreds of thousands of dollars in lost time. Sometimes they even result in damage or human injury.
A commonly overlooked cause is galvanic corrosion, which happens when two dissimilar metals are joined together in a fluid system with a conductive fluid media in the line. When the metals have a significant enough difference between them in voltage potential, such as aluminum and copper, the alloy farthest from zero potential will begin to ionically decompose. Pits will form in the metal with higher potential, and deposits will form on the metal with lower potential (typically). If you look online for a "galvanic series chart" you should find a number of graphs showing the difference in potentials of various metals. Before designing a joint in a system that is made of different metals, review a galvanic chart and save yourself in the long run.
Another very important check when designing a fluid system is chemical compatibility of media. Untreated steel pipes and water are a bad combination. If you download a copy of our Tube Fitter's Manual, you'll find a listing of chemical compatibility in the appendix. A quick reference check can save you big time in the long run.
Ask the Experts
Every day Swagelok Northern California helps our customers design, build and maintain fluid systems. We employ a team of highly trained, certified fluid system assemblers for building everything from simple pressure regulator assemblies to full chemical mixing systems, gas boxes, and liquid cooling systems. When you want expert advice talk to the experts, and at Swagelok, we are the fluid system experts.
---
More like this: