Choosing a Seal Support System Water Flush Plan: Best Practices for Petrochem Refineries
by Paul Lesnau, on 5/7/20 8:45 AM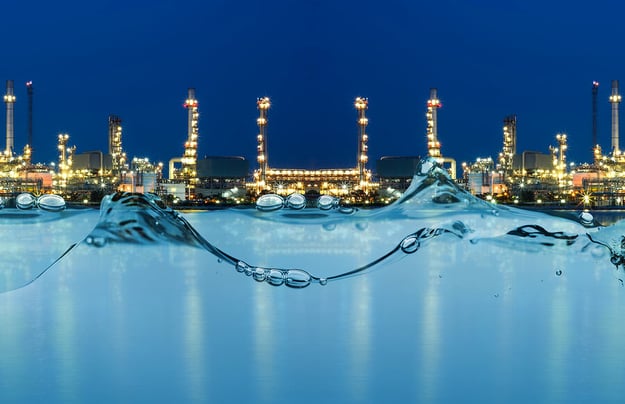 For many local refinery processes, a seal support system water flush plan provides an attractive alternative to nitrogen, hydraulic oil, lubrication oil, diesel, or kerosene barrier fluids to support mechanical seal reliability. But extra flushing may be necessary at times to prevent unscheduled mechanical seal repair, taking up operator time and leading to inefficiency.
When flushing occurs too often, it may be time to consider whether you are getting the most benefit from the current flush plan for maintaining mechanical seal health. In the California Bay Area refineries, as an example, the primary reasons for extra water flushing revolve around pressure/ temperature changes, vibration, low flow rates. Much of this stems from aging infrastructure resulting in sub-standard flow rates in the flush plan and/ or an incorrect choice of API 682 Flush Plan for the application.
By employing some of the best practices that I've observed in working with refineries across Northern California, you may be able to reduce maintenance time and increase equipment uptime. Let me walk you through two ways you can improve processes with the right water flush plan.
2 Ways to Enhance Processes With a Seal Support System Water Flush
I'll use two seal support system water flush plans to illustrate how water, a mixture, or steam can be employed and mention some additional methods to further enhance petrochem process reliability.
Example 1: Buffer Fluid Circulated by External System
API 682 Plan 55 delivers unpressurized buffer fluid to a dual unpressurized seal (inboard and outboard seal faces), circulating the buffer fluid to and from the seal chamber using a pump located on an external reservoir. The plan may include filters, coolers, and other components to meet the specific process parameters. Unpressurized buffer fluid allows process hydrocarbons to leak across the inner seal, become diluted in the buffer fluid, then vent off for recovery.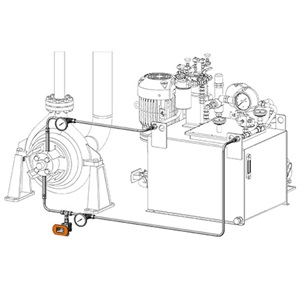 This arrangement effectively prevents fugitive emissions, cools the seal chamber even when the process pump is not running, and is ideal for processes needing additional heat removal from the inner seal.
Best Practices to Enhance Performance
⇒ Typical glycol/water mixture ratios should be within the range of 30-60%, with a higher glycol ratio raising the boiling point.
⇒ Reservoirs and tubing should be stainless steel to avoid contamination from rust or corrosion associated with carbon steel.
⇒ Process/ industrial water should be filtered to improve the purity and prevent clogging of flow control valves.
The API 682 Plan 55 can utilize other flush fluids, but water or a mixture often provides the most cost-effective solution. The plan can be customized with a wide range of instrumentation, components, and cooling options to provide the proper seal chamber environment for suitable hydrocarbon applications.
Example 2: Quench from External Source
API 682 Plan 62 delivers quench fluid from an external source to the atmospheric side of the seal to prevent the formation of solids, or clear them, from the atmospheric side of seal faces. You will see this in refineries frequently as an application for the prevention of coking on seal faces. In this application, the quench is provided by steam.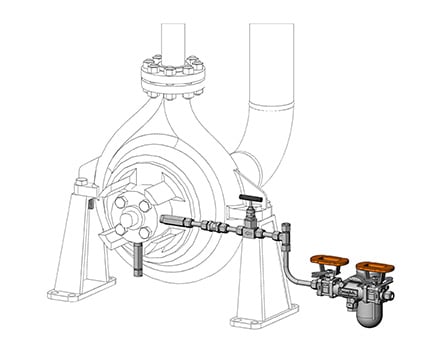 An external quench offers a low-cost alternative to double seals for maintaining the proper conditions on the low-pressure seal side. Plan 62 can be used with either horizontal and vertical pumps. Any leakage of process fluids is collected and removed via the drain.
Best Practices to Enhance Performance
⇒ Include instrumentation to ensure proper flow rates and temperature to prevent coking.
⇒ Maintain a quench pressure between 2 to 7 psi (0.14 to 0.48 bar) to ensure purging of any atmospheric gases.
⇒ Use a close clearance bushing or containment device in the seal chamber to direct the quench to the target area.
⇒ Monitor the water in lubricating oil using an oil condition bottle. Steam quench may expose bearing housings to water vapor that impacts bearing reliability, potentially resulting in a hot bearing which can be an ignition source for flammable vapors.
Quench from an external source can be one of the most straightforward means of maintaining the proper seal chamber environment for hydrocarbon processes that have a tendency to coking.
Those are just two examples among a variety of water flush plans. Although the relative simplicity is appealing, to gain the maximum value from your water flush plan implementation, you'll benefit from the guidance from seal support systems experts with considerable refinery experience.
Benefit From The Experience of a Local Seal Support System Vendor
Given the variety of refinery applications, there are many variables to consider in choosing the best plan. You'll want to select a vendor who has worked closely with reliability and process engineers and brings practical experience in the selection, design, and configuration of seal support system water flush plans.
It's important to partner with a local company whose field engineers know ins and outs of local processes. They are best suited to evaluate your seal support requirements, recommend appropriate options, suggest the best configuration, and present you with detailed technical and design information. Keeping it local also saves time when it comes to fabrication, testing, and delivery.
Swagelok has been meeting the mechanical seal support systems needs of petrochem refineries in Northern California for more than 50 years. Our expert Field Engineers can help you select from a wide range of plans that include water flush. We offer a comprehensive set of design, fabrication, testing, training, and spares services. Plans are available as assemblies or kits and can be customized to meet your unique Bay Area requirements.
To learn how Swagelok Northern California can help you choose the right seal support water flush plan as well as design, fabricate, and test it prior to delivery, contact our team or call 510-933-6200.
---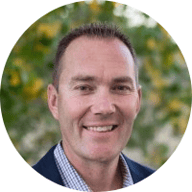 About Paul Lesnau | Sales Manager, Business Development Manager, and Field Engineer
Paul holds a B.S. in Mechanical Engineering from North Dakota State University. Before joining Swagelok Northern California, he was the West Coast Regional Sales Manager for an organization based in Illinois involved in pneumatic and hydraulic applications where he supervised product distribution throughout the western United States, Canada, and Mexico. While in this role, he was able to help provide technical and application-specific expertise to customers and distribution to drive specifications.