Swagelok Northern California Product Pages
by Jeff Hopkins, on 3/2/16 8:00 AM
Our new product pages are designed to help you quickly access catalogs, data sheets, guides and more by product category.
Get an overview of the products Swagelok Northern California has to offer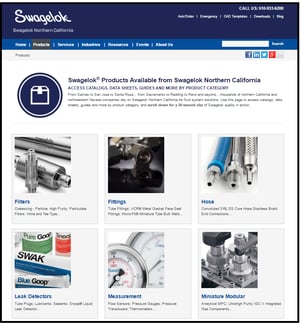 Products is a new section designed to help you access catalogs, data sheets, and guides by product category. Responding at the one of the product pages gets you the latest catalogs, data sheets, pocket guides, application guides, instruction cards, and technical bulletins that we have for all of that product category that Swagelok has to offer!
So now, the information you need for filters, fittings, hoses, leak detectors, measurement devices, miniature modular systems, subsystems, quick-connects, regulators, sample cylinders, tubing, valves and welding systems – is all in one place.
Swagelok fittings
When the world's most respected companies want to make lasting connections, they turn to Swagelok. From high-purity fittings designed to minimize particle generation and entrapment to high-strength fittings designed to hold high pressure, Swagelok products deliver dependable, leak-tight performance.

Whether you need fittings for corrosive environments or extreme temperatures, fittings to maintain vacuum or withstand high pressure, or a proven partner who understands your industry, you'll be well-connected with Swagelok.
Swagelok valves
From the far reaches of space to the bottom of the ocean and everywhere in between, you can rely on us for leak-tight, long lasting valves for your critical applications. Known for durability, Swagelok valves perform as promised even after years of use in demanding applications. We rigorously test every valve and end connection we make for quality and performance so you can be confident they deliver unparalleled value and low total cost of ownership.
Swagelok hose
Swagelok hose and flexible tubing is available in custom lengths, in diameters 2 inches and under, and with a wide variety of end connections. Choose materials and end connections for a wide range of pressures and temperatures.
Multiple-layered flexible conduit hose
Single-layered flexible conduit tubing
Static and dynamic applications
Vacuum service to working pressures up to 5000 psig (344 bar)
Temperature ranges –325 to 1000°F (–200 to 537°C)
ECE R110-approved hoses available
Swagelok pressure regulators
Reliable pressure control is essential to the safe operation of your fluid systems. At Swagelok, we have the right combination of regulators to fit any situation, and our experts can help you design a configuration that will maintain pressure and minimize droop over a wide range of pressures and flows.
Back-pressure and pressure-reducing models
Spring-, dome-, and air-loaded models
Vaporizing models
Gas cylinder changeover mode
Swagelok quick connects
Connect quickly and with confidence. Swagelok offers a variety of quick-connect fittings that enable quick, simple operation without twisting, turning, or wrenching. Engineered to minimize spillage and air inclusion, our quick-connects are available in a wide range of configurations, stem and body connectors, including single-end shutoff and double-end shutoff models, and an array of end connections. Models include:
Full-Flow
Instrumentation
Miniature
PTFE-Sealed
Measurement Devices
Swagelok offers easy-to-operate and easy-to-read pressure gauges, pressure transducers, flow sensors, variable area flowmeters, thermowells, thermometers that provide accurate readings on demand.
Swagelok tubing and tube accessories
Dependable tubing and accessories for virtually any industry or application. Our tubing meets or exceeds industry standards in a wide range of sizes, forms, and alloys. Insulated tubing maintains stable temperatures, while jacketed tubing provides protection from harsh elements. Trace tubing helps maintain consistency in sampling applications. And our tube cutting and preparation tools help you cut, bend, or deburr tubing for repeatable results and leak-tight performance. You can also take advantage of our Bay Area tube bending service →
Swagelok filters
Contaminants can lead to off-spec products and other problems downstream, but Swagelok filters can help.
If your operations require the removal of liquid or particulate contaminants, turn to Swagelok filters for reliable, repeatable results.
Coalescing/particle, inline-particulate, tee-type particulate, high purity, and ultrahigh-purity filters
Available for liquid and gas service
Wide variety of filter elements materials and nominal pore sizes
Swagelok sample cylinders
In transport, you need to be confident that the integrity of your product will be protected. Swagelok offers a wide selection of cylinders that meet DOT, Transport Canada and TPED standards for transportation of chemicals. These cylinders feature consistent wall thickness, smooth internal neck transitions for easy cleaning, and heavy-wall connections that resist flaring.
Single- and double-ended and miniature styles
Sizes from 10 to 3785 cm³ (1 gal)
304L, 316, 316L, and Alloy 400
Working pressures up to 5000 psig (344 bar)
Variety of options including integral valves, outage tubes, and specialty coatings
Swagelok miniature modular systems
Build and install compact sampling systems and miniature process analyzer systems. Conduct analyses at the process line and obtain real-time results. Backed by years of Swagelok expertise, our miniature modular systems minimize design, build, and maintenance time. Swagelok miniature modular systems come with configurator software to develop complete fluid system designs using a computerized layout grid to simplify ordering and final assembly.
Swagelok pre-engineered subsystems
Pre-engineered and pre-assembled fluid sampling and control subsystems bring efficiency and consistency to your operations. Use Swagelok pre-engineered subsystems to create fully documented fluid sampling and control systems without the worry of acquiring and assembling multiple parts.

For use in all types of plants and facilities where fluids are processed, our proven subassemblies minimize system footprints, simplify system design, and promote representative samples and accurate analytical results.
Swagelok welding systems
For projects requiring a consistent, safe, and efficient approach to welding, the Swagelok orbital welding system offers precision and control combined with easy-to-use touch-screen operation.
The Swagelok orbital welding system provides repeatable orbital gas tungsten arc welds (GTAW) for both tubing and pipe. Its real-time monitoring and recording capabilities streamline documentation for easy adherence to industry requirements.
Cost effective and reliable gas tungsten arc welds
Lightweight, portable power supply
Selection of weld heads
Variety of tools and accessories
Swagelok leak detectors, lubricants, and sealants
Swagelok makes it easy to detect, eliminate, and even avoid leaks before they impact system performance. Snoop Liquid Leak Detectors indicate leakage with bubbling action. For sealing pipe, choose SWAK Pipe Thread Sealants or PTFE Tape. Goop Thread Lubricants make assembling pipe easier, so that connections are secure, right from the start.
---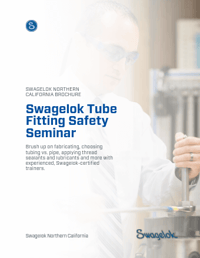 Explore Swagelok training options
In our Swagelok Tube Fitting Safety Seminar, our Swagelok certified trainers will show you how to properly apply PTFE thread sealant and other sealants and lubricants, and then ask you to do it yourself under their watchful eye. You learn about pipe fittings, handling tubing, how to install a Swagelok tube fitting, and more.
---
Take advantage of tool rental
Hydraulic & Pneumatic Tools—When buying doesn't cost-justify, rent swaging tools. They help insure correct assembly of our tube fittings and hoses.
Orbital Welding System Rental—Rent a system for welding 1/8"-4" tube OD. Available by the day, week or month. Also see our welding seminars.
Plastic Tube Flaring Tool Rental—Using PFA tubing systems with fine thread flare fittings? Rent the hot flaring tool for fast assembly and the best performance.
These are just three examples of the many tool and equipment rentals we offer. Browse more options here:

---
More articles like this: