Find The Right Hose For The Job In Four Easy Steps
by Jeff Hopkins, on 1/23/19 8:45 AM
Start by selecting material for the inside layer, then work your way outward to the cover and end connections
---
"

The proper end connection will improve your system by eliminating the need for adapters.

"
- From Four Steps to Choosing a Hose (Video)
---
Should your hose have a stainless steel cover over a silicone core? Or maybe a Fiberglass jacket over nylon? Your can order a wide variety of components for Swagelok hose. We've produced a quick overview in a two-minute Tech Clip video (embedded below) to make it easy to find the right combination. Watch the whole thing, or click on the time stamps in this blog post to go straight to the part of the video being discussed. Fortunately, it takes only four simple steps (0:12) to find the right hose for your job.
Core concerns
Start by selecting the hose core tube material (0:22). That's the layer that will come in contact with the fluid and contain it. Different materials will have different permeability, work within different temperature ranges, and be compatible with different kinds of fluids. Some are easier to clean than others, too.

Common core tube materials include: metal, silicone, nylon, fluoropolymers like PTFE and PFA, and various rubbers.

So nylon, for example, works well under high pressure and low temperatures, while metal is a better choice for high temperatures. PTFE features good cleanability, while silicone doesn't.
Call for reinforcement
Reinforcement (0:43) is the layer that provides pressure containment, kink and crush resistance, electrical continuity, torsion strength, volumetric expansion control, and flexibility. It may be either an internal or the hose cover.

Hose reinforcements can be a number of materials from fabric to metallic.
---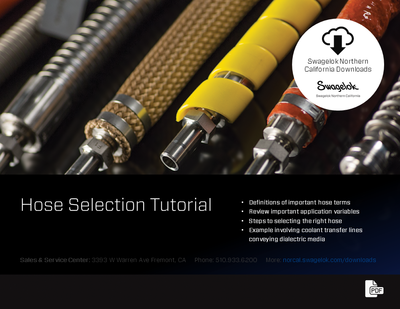 ---
Take cover
The hose cover (1:04) protects against permeation, abrasion, kinking and temperature, and it can enhance UV resistance and flexibility.

These options may be integral to the hose or an added accessory. Common cover options include Armor Guard, Spiral Guard, Fire Jacket, Thermosleeve, silicone, and stainless steel over-braid.

Each has its own set of characteristics. So if you are looking for a cover that resists many hydraulic fluids and lubricating oils, and can operate at temperatures from -65° to 500F, take a look at Swagelok's Fire Jacket, a woven fiberglass coated with aerospace-grade silicone rubber.

But if you need a cover that can handle higher temperatures and protects the hose from weld spatter, you might want to consider Swagelok's braided fiberglass Thermosleeve.
---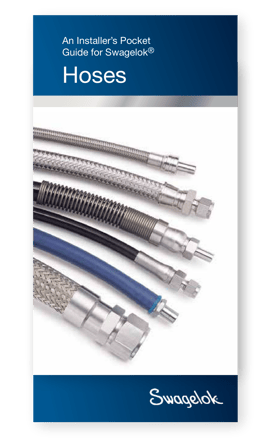 ---
The end
The fourth and final step is to select the end connections for the hose (1:28).

The proper end connections will improve your system by eliminating the need for adapters. That makes installation and maintenance easier, reduces leak points and production downtime, and lowers the risk to personnel, equipment, and your end product.

Swagelok has many different types to choose from, making it easy to meet your industry's standards and your system's specifications. Among the options are NPT threads, tube adapters, tube butt welds and Kwik clamps.

For details on all available hoses, see our Swagelok Hose Catalog. Need help selecting a hose? Contact us through our Help Me Choose page. Learn more about our Hose Assembly service on our Hose, My Way page
---
Here is the Swagelok Tech clip: Four Steps to Choosing a Hose
---
More like this: