When Will It Burst? Putting the Pressure On Swagelok PTFE Hose
by Jeff Hopkins, on 11/19/14 8:00 AM
Our video series takes a closer look at our flexible hose with fiber braiding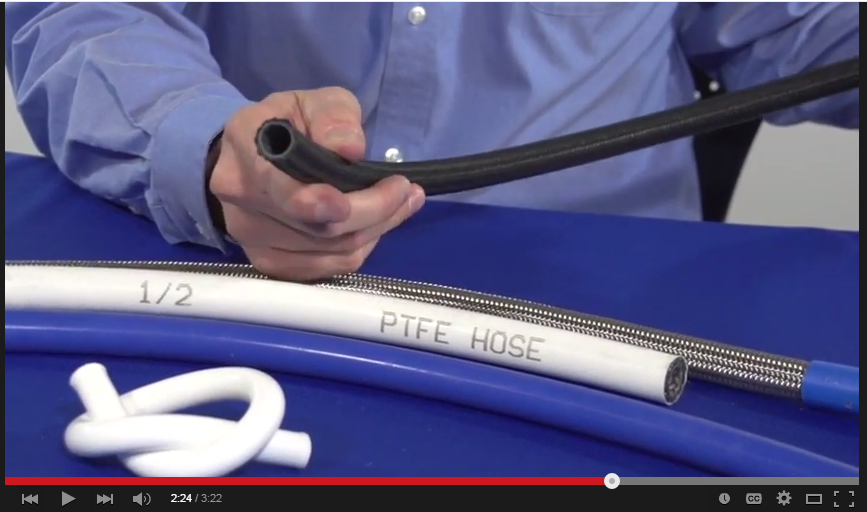 Watch the next video to learn how Swagelok's unique fiber braiding technology increases hose flexibility and kink resistance and enter a guess for a chance to win a $100 Visa gift card and bragging rights too
here »
We resumed our "When Will It Burst" video series earlier this month by seeing how much pressure it takes to burst rubber hose. We had some good guesses, but one person came closest to the burst pressure. Want to find who won and the actual burst pressure? The winner and burst pressure are revealed in this week's video.
You can watch the video here »
We're also upping the ante this week by putting the pressure on a piece of Swagelok PTFE hose. The video includes a few tips on how to get the best performance from hose without it collapsing or kinking on the job.
Swagelok has four series of PTFE hoses manufactured with non-metallic fiber braiding reinforcement bonded to the PTFE core. This unique braiding technology creates a more flexible hose with greater resistance to collapsing and kinking when being bent. But how does that reinforcement help the hose perform? Specifically, in this video, we ask you to guess at what pressure a half-inch Swagelok F Series PTFE hose will burst? Watch the video to find out the working pressure and minimum burst pressure and enter your guess at http://Swagelok.com/whenwillitburst. You have until Sunday, Nov. 30 if you want your entry to count toward winning the prize.
That's the Sunday after Thanksgiving, so this year in between all those football games on TV gather your family and friends around the video for some fun and guesswork. (Then again, you might want the prize and bragging rights to yourself.)
Additional Resources