Swagelok Receives Lam Research's Supplier Excellence Award
by Jeff Hopkins, on 3/11/15 8:00 AM
Lam Research rewards outstanding performance, commitment, and collaboration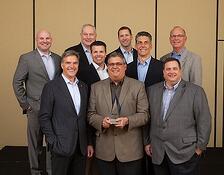 Swagelok has won a Supplier Excellence Award from Lam Research Corporation, a major global provider of innovative wafer fabrication equipment and services to the semiconductor industry. Swagelok was one of only six companies around the world to achieve the award.
These awards were based on pre-defined standards, including on-time delivery, quality, cost reduction, and several areas of flexibility and support. More than that, though, the winners stood out for their willingness to exceed performance requirements, according to Lam.
Swagelok has been supplying parts to Lam since 1980, the year Lam was founded. We currently supply Lam with a wide range of valves, fittings, tubing, hoses, pressure gauges and custom solutions assemblies.
Team effort
"Earning Lam's Supplier Excellence Award is a wonderful accomplishment," said Rod Fallow, president of Swagelok Northern California.
The award was not just for Swagelok Northern California, it is actually for Swagelok Company in Ohio and all the sales and service centers that work with Lam. Supporting Lam is a team effort.
"The team back there has performed miracles on numerous occasions to manufacture and expedite products to make sure Lam was able to meet their commitments to their customers," Fallow said. "In addition, they have on numerous occasions shared their knowledge and collaborated with Lam vice presidents, engineers, scientists, quality teams, and supply chain managers to provide even more value."
Locally, Josh Herndon and Mike Valentine manage the overall relationship with Lam and work to uncover opportunities where we can help them improve their business in some way. But Fallow was quick to emphasize that working with Lam is a team effort: Christine Anderson acting as our primary point of contact for customer service to Lam, Gabe Barron and the Custom Solutions team managing the quoting, Neil Ide working work with Lam engineers to help solve a problem or simplify an assembly. It seems unfair not to give credit to each individual who is involved, but the list would take an entire blog post by itself. Even the finance and accounting team is crucial to our success supporting Lam.
Strict standards
In evaluating its suppliers, Lam uses some objective criteria such as cost, delivery and quality. But there are subjective measures too, such as flexibility and support. Swagelok beats Lam's requirement of getting 95 percent of shipments to their destination by the promised date. With Lam working three shifts, that's vital to maintaining capacity.
Lam invests a lot of money into research and development to stay competitive. Thus, it needs suppliers that likewise care about R&D and look at the relationship as a collaboration, not just a series of transactions.
Additional Resources