SEMI Americas President Karen Savala Previews SEMICON West 2015
by Jeff Hopkins, on 6/24/15 8:00 AM
Exploring what's new and examining the impact on Semiconductor Manufacturing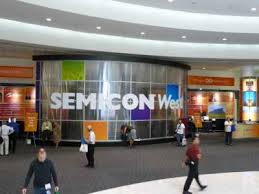 Find out more about SEMICON West and register to attend the show free courtesy of Swagelok
here »
When you come to SEMICON West to keep up with the news of the industry, we hope you'll stop by the Swagelok Company SEMI booth (#1329) in the South Hall. We'll be there through the entire event, July 14-16 at Moscone Center in San Francisco.
Catching Up with Industry Progress: Priceless
By Karen Savala, president, SEMI Americas
Each year, we implement improvements at SEMICON West to ensure that it best serves the needs of the industry. Our goal is to continuously improve the exposition and bring fresh, relevant content to our exhibitors and visitors.
One of the transitions we've initiated is to focus more on our conference programs. We've increased the level of technical and business content to enable attendees to leverage their SEMICON West experience as an opportunity for learning. The focus of our programs is to explore what is new and to assess the impact on semiconductor manufacturing. We invite you to join us to converge with industry leaders and discuss strategic issues.
As our industry matures, our vision is that SEMICON West continues to serve as a forum where customers and suppliers meet together to explore new solutions. We'll be taking a leading role in providing information to enable industry leaders to assess the business, identify new opportunities and to develop strategic plans. Our increased emphasis on programs reflects this transition.
We are pleased to feature several new programs this year that serve to inform our attendees.
Interconnects
We're partnering with IEEE Electron Devices Society and Semiconductor Research Corporation (SRC) to bring you a program on interconnect challenges. Our session speakers will describe the nature of challenges in materials and processing of advanced interconnects. They will also assess the impact on circuit and system requirements and provide a glimpse of potential new approaches.
Dr. Mehul Naik of Applied Materials and Dr. James Clarke of Intel will present "Interconnect Performance and Yield Challenges for 7nm and Beyond". This will be followed by a presentation on interconnect reliability challenges by Dr. Larry Zhao of Lam Research. The session will also cover "CMOS Circuit Impact of Interconnects – CU and Beyond" by Dr. Azan Naeemi of the Georgia Institute of Technology and "3DIC Technology Past, Present and Future by Dr. Ramakanth Alapati of Global Foundries.
The afternoon session will include presentations on "Silicon Photonic Interconnection Networks for Energy Efficient Scalable Data Movement in High-Performance Computing", "Interconnects for Emerging Beyond CMOS Devices and Circuits" and "Interconnects for Flexible/Stretchable Circuits".
To close the program, we'll be exploring revolutionary new approaches to interconnects in a session titled "Interconnect Lessons from the Brain" by Dr. John Rabaey of UC Berkeley.
We're looking forward to bringing this exciting program on interconnects to SEMICON West.
Photolithography and Transistor Scaling
Another great program will focus on photolithography and device scaling issues. Each year, our industry makes progress on EUV. Join us as we examine what has changed, and what new approaches have been developed to extend the lifetime of existing technologies. Our photolithography session features industry thought leaders from Nikon, ASML, GLOBALFOUNDRIES, Canon Nanotechnologies, Photronics, SEMATECH and CEA Leti.
The afternoon session will explore transistor scaling. Industry leaders will discuss high volume manufacturing solutions. Speakers include An Steegen of imec, Christophe Maleville of Soitec, Raj Jammy of Intermolecular, Harmeet Singh of Lam Research, Ofer Adan of Applied Materials and Juan Rey of Mentor Graphics.
Supply Chain Strategy
Our programs will also examine strategic business issues. One of our most popular programs with show registrants to date focuses on "Semiconductor Manufacturing: Current Challenges and Future Opportunities for the Semiconductor Supply Chain" and "Adjacent Spaces: Strategies for Executing Expansion into Adjacent Markets from the Semiconductor Supply Chain.
Co-sponsored by SEMATECH, this program will address the technological and financial challenges in semiconductor process technology and manufacturing, and explore strategies used by semiconductor OEMs to grow their businesses.
Packaging
We're pleased to offer several outstanding Back End programs. In our Tuesday, July 14, program on Packaging, we'll start the morning looking at Packaging from a big picture standpoint. After an introduction by Sesh Ramaswami of Applied Materials, we'll start with an ITRS 2.0 update from Bill Bottoms of 3MTS. This will be followed by presentations on "Development at the Chip Level" by Bryan Black of AMD, "Development at the System Level" by Sridhar Vajapey of Oracle, a presentation on "Big Picture Systems Managing Big Data, and a panel discussion on "Value vs. Cost"
The afternoon session on packaging will cover "Digital Health and Semiconductor Technology." Topics will include semiconductor and packaging technologies for medical health devices and systems, technologies for wearable devices, technologies for sensors and actuators, and applications in drug delivery. Speakers will include Dr. Jonathan Tong of Medicustek, Dr. Shawn Shi of Medtronic, Jonathan Short of GE and Dr. Ilyas Mohammed of Jawbone.
Test
Our Test sessions will run Wednesday and Thursday, July 15 and 16. The keynote speaker, Kaivan Karimi, Vice President and General Manager of Wireless Solutions at Atmel, will present "How the Era of IoT will Impact the Semiconductor and Cloud Markets"
Other speakers will include Brad Shaffer of IHS Technology, who will present "The LTE Era: Innovation Through Evolution – The Wireless Transformation from Smart to Genius and Beyond, and Thomas Burger of AMS, who will present "Sensor Test Challenges and Outlook".
The Test program will cover three sessions: Wireless Test in the IoT Era, Unique Test Flows for New Cost Challenges and Advanced Packaging, Advanced Test Challenges.
The program also brings industry thought leaders together for two panel sessions. The first panel will focus wireless test in the IoT Era, and will feature Paul Berndt of Cypress, Gerard John of Amkor, John Luke of LitePoint and John Shelley of Xcerra.
The second panel will discuss "How Secure is YOUR Test Data, Really?" This panel will feature Gerard John of Amkor, Gil Levy of Optimal+, Mark Roos of Roos Instruments and other industry leaders.
SEMICON West - Enabling Industry Success
Our vision is that SEMICON West continues to serve as an enabler, helping our industry stakeholders to be successful. The transition to stronger programming, with less emphasis on large, on site display of capital equipment, reflects the changing needs of the industry.
We're quite pleased to offer such an exciting set of technical and business programs and hope that you can join us in exploring strategic issues, discovering new technologies and discussing new solutions at SEMICON West 2015.