How one of our customers had to backtrack after installing the wrong size pressure regulator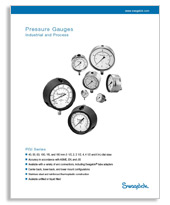 "Putting the wrong pressure reducing regulator into service means, at best, getting lower performance. At worst, the pressure regulator won't be able to do its job at all," Swagelok field engineer Eric Kayla says. Next Thursday he'll show how to avoid this problem.
Learn more »
A while ago, one of our customers returned a Swagelok regulator they had ordered, and asked us to figure out why it was not performing as they had expected. They had installed it into a new system they had designed in their research and development lab, but the regulator could not achieve the outlet pressure that their system required.
At first, we were puzzled. There did not seem to be anything wrong with the regulator, and the outlet pressure they needed was within the outlet pressure range of the regulator. We took a closer look at the parameters of their system, and we saw the problem. This was the wrong regulator for the job. Even though the connections fit, it could not work with the pressure and flow they were trying to run through it. Using their system parameters, we were able to help them select and size the correct regulator, and it worked just as they had hoped.
Learn how to find the right match
We would like to help you avoid the frustration and lost productivity that this sort of problem can cause, and we invite you to take 40 mins. on Jan. 17 to participate in our free webinar on "How To Select and Size a Pressure Reducing Regulator" and get our forthcoming guide (due out about Jan. 17th) "Pressure Reducing Regulators: A Guide to Finding the Right Fit."
The key to selection is the flow curve. It's a special chart we offer with each regulator, showing the range of pressure and flow where that particular model does the best job.
Our presenter will be Swagelok field engineer Eric Kayla. He'll show you how to determine the right model for the job. Kayla is a familiar face to many Swagelok customers from our October webinar on the basics of pressure regulators, and from his many visits during the year to customers in the western portions of the United States, Canada and Mexico.
Additional resources