Tony Waters wrote the book on industrial sampling systems
by Jeff Hopkins, on 6/5/13 8:00 AM
He packs 50+ years of expertise into the most thorough work on sampling systems ever created. Get a free sample, see an interview, and learn about training options.
---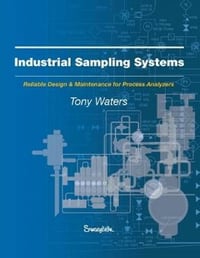 Attendees at our upcoming Process Analyzer Sampling System Training class will get a special take-away, a new book on the topic titled, "Industrial Sampling Systems: Reliable Design and Maintenance for Process Analyzers" written by Tony Waters and published by Swagelok Company.
This is a big addition to the industry as it fills a critical need for those who design, engineer, and maintain sample systems for process analyzers. The previous book on the subject was done over a decade ago, and was primarily made up of sales literature organized into chapters.
Five years in the making
Waters' book is a true training and reference work, more than five years in the making and tapping into his five decades of experience. Combining a balance of theory with practical examples, it is expected to become the standard reference material for experienced engineers and technicians in the industry and for training new analyzer professionals.
"We focus only on sampling systems. We don't try to get into the analyzers themselves. That would require three books," Waters says. Also, the book sticks to the topics of gasses and liquids. Again, it would take a separate volume to tackle solids sampling. The book grew out of Waters' training classes, and he hopes others will use the book to develop training classes of their own.
Here Waters explains why Swagelok offers training in process analyzer sampling systems. Plants have fewer and fewer individuals on hand with expertise in sampling systems. Also, it's estimated that about 80 percent of the problems with analyzers can be traced to poor sampling system design.
Comprehensive reference
The reference material spans beginner to college-level engineering and is ideal for students as well as experienced engineers, designers, and technicians. "Basically it was designed for an analyzer technician in a plant to pick up and read," Waters says. "At the same time, we tried to make the book very comprehensive. An expert in the field can go into there and look up an equation that he doesn't quite remember."
Waters especially hopes that the book will be used by people who design and build sampling systems. That's where the reliability of a system originates, although too many bad designs end up on the market, he says. For those unable to attend the PASS training, the new book may be purchased here:
Six of the chapters cover similar material as the PASS class that Waters will be teaching in Northern California this month. In addition, there are chapters about the fundamental measurements of temperature, pressure and flow, and a section on dealing with the Metric SI system of measurement. Get a taste of it here:
The attendees who get to take the book home for free will get a bit of exercise too. It is a 744 page hardcover textbook, and it weighs eight pounds.
The registration deadline for the PASS class was May 31st, but we have allowed room for a few late registrants, so don't wait. You can learn more about the class here:
---
More articles like this: