Building and Operating Your Sampling System
by Jeff Hopkins, on 10/23/18 1:15 PM
Our comprehensive product range lowers costs and increases productivity
---
"Use Swagelok application solutions to create fully documented fluid sampling and control systems and bring consistency to your operations. Easy to install and operate, these solutions offer the high quality and support you expect from Swagelok."
- From Swagelok's Grab Sampling Systems Application Guide
---
What does it take to build and operate a sampling system? A solid design, high quality parts and a clear understanding of how to get the best performance from the system. To fill each of those needs you should make Swagelok Northern California your first stop.
Design Help
There's no need to start from scratch with your sample system design. We offer engineering and design support, plus pre-assembled modules from the Swagelok factory for on-line and grab sampling applications. Our modules provide you with a simple configuration process, streamlined ordering processes, reduced waste and labor costs with shorter construction times. We can supply 3D modeling and performance data too.
You'll lower your design and drafting costs, reduce the assembly footprint, streamline the ordering process, and get the whole system up and running faster.
---
---
High-quality components
Swagelok offers unmatched quality for fittings, valves and regulators. You can get them in stainless steel or specialty alloys, and with surface treatments to meet your particular sampling needs. Swagelok also has developed global partnership supply agreements with world leading suppliers. We have Krohne flowmeters, WIKA gauges and transducers, and O'Brien enclosures and heaters to reduce your procurement and handling costs.
For smooth operations, Swagelok Smart Products provide the platform for remote diagnostic control of your sampling system improving productivity. Data logging provides the historical information needed to move from preventative maintenance to programmed maintenance thus delivering cost savings and safety benefits.
Fabrication and assembly
Why take on the unfamiliar task of building a sampling system when you can draw on the skills of people who deal with fluid system design on a daily basis? Swagelok Northern California can create assemblies to meet the unique needs of your application – from idea through to finished product. Whether simple and small, or large and complex, our team will work with you to solve your assembly needs. We can build a system from scratch, build a system from your drawings, or convert an existing piping and instrumentation diagram.
---
This video demonstrates how Swagelok Assembly Services (formerly Custom Solutions) can help you eliminate unnecessary and costly steps for you and your staff and ensure you receive a TOTAL solution every time.
---
Expert training
Our Process Analyzer Sampling Systems training gives your designers and engineers the knowledge they need to design systems that consistently provide timely, representative and compatible samples to your critical on-line analyzers.
We also have the definitive reference guide, "Industrial Sampling Systems" by Tony Waters, acknowledged by many as the leading expert in the design of sampling systems.
Our Sample System Maintenance class teaches how to trouble shoot your analyzer systems to get them back on line in a timely fashion.
When you get everything through Swagelok Northern California, you have a one-stop shop. You can have confidence in the design, you know the components will all work with one another, and you can acquire in-house expertise to keep your system performing like new.
Don't try to go it alone. Call us at 510-933-6200 or contact us through our website.
---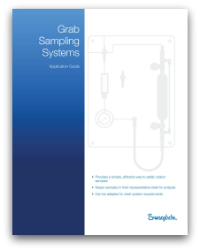 Swagelok Grab Sampling Systems Application Guide (Catalog)
---
More like this: