Grab Sample Panel Selection Made Easier
by Jeff Hopkins, on 10/10/18 8:45 AM
A single source for everything from assessment through assembly and training
---
"As more industries bring additional analytical equipment online, it becomes more imperative to have quality sample systems that can accurately capture the process for later analysis."
- From Swagelok's Grab Sampling Systems Application Guide
---
When you know exactly what you want in a piece of equipment, it's great to be able to pick from a lot of options. When you don't know your best options, it's great to have an expert you can rely on. You get both when it comes to Grab Sample Panels from Swagelok.
You deal with one company, one part number, and one invoice. Yet you get all this:
Assessment
Does your sampling system provide you with a repeatable and representative sample, or are sampling challenges costing you time and money? Our trained and certified technicians and engineers will work with you to evaluate your current sampling system and determine your needs.
For an even more in-depth look, we can provide an expert analysis of your existing grab sampling system. Our experts will visit your facility, evaluate your systems and advise on enhancements that will improve your operations. We'll identify ways to eliminate potential safety concerns, obtain more representative samples and improve the reliability of your grab sampling systems.
---
Swagelok Services: Training and Education, Evaluation and Advisory
---
Recommendations
With all the options available, you want to make sure your grab sampling system is suitable for your particular purpose. Temperature, pressure, phase, container type, materials of construction and where the panel will be installed are just a few of the criteria to consider in order to properly specify a grab sampling system.
Configuring
Using our standard panel designs as a platform, we can work with your team to:
Substitute comparable Swagelok and non-Swagelok (non-competitive) products
Add products within the existing schematics – sample coolers, flowmeters, shut-off valves, drain valves, etc.
Make changes in layout including structural changes/additions – panel/bracket materials, enclosures, etc.
Convert to larger/smaller tube size (or metric)
Alternate materials of construction
Adjust flow/pressure drop calculations (and make changes based on results)
Change sizing of sample coolers/heaters and enclosure heaters (using vendors' applications engineering)
---
---
Assembly
Every local Swagelok technician has undergone a comprehensive training and certification program that is repeated every three years to ensure your sample panel will be assembled to strict guidelines and to your specifications.
In addition, our Certified Engineer will monitor each step of the process to ensure quality and consistency.
Training
Swagelok is committed to helping you work safer and smarter. Upon completion of your grab sample panels, we can provide hands-on training to your technicians on proper use and maintenance.
You have enough on your plate without trying to do extra work on your own. Talk to the experts in fluid systems. All it takes to get started is a call to 510-933-6200 or a quick note sent through our website.
---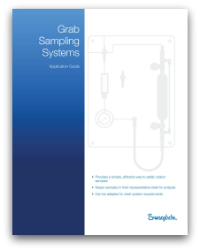 Swagelok Grab Sampling Systems Application Guide (Catalog)
---
More like this: