Where It All Began: Swagelok Fittings
by Jeff Hopkins, on 3/9/16 8:00 AM
Get an overview of all Swagelok fittings, including the Gaugeable Tube Fittings and Adapter Fittings catalog, pipe fittings, weld fittings, Installer's Pocket Guide for Swagelok Tube Fittings, Swagelok Tube Fittings Wall Chart, Swagelok Adapter Elbows and Tees and more.
http://northerncal.swagelok.com/fittings »
Our two-ferrule fitting set the industry standard, and we offer a wide variety of other fittings as well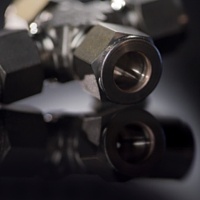 Swagelok's two-ferrule fitting hit the market in 1947. Since then, the basic design has been improved and expanded into a whole product line. Fill out the form on our tube fittings product page, and you will get links via email to all the catalogs and pocket guide related to Swagelok tube fittings. That includes:
The Gaugeable Tube Fittings and Adapter Fittings catalog
Installer's Pocket Guide for Swagelok Tube Fittings, covering such topics as intermixing and interchanging, metric fittings, installation instructions, hydraulic swaging units and ordering Information.
Swagelok Tube Fittings Wall Chart
Swagelok Adapter Elbows and Tees Catalog
A fitting for almost every thread
In addition to our standard two-ferrule fitting, you'll find our entire fitting line up on our fittings product page. They include:
TP Series heat exchanger tube plugs, which seal the ends of leaking tubes to extend the life of the heat exchanger.

Dielectric Fittings - Metal components are machined from 316 stainless steel for use in rugged environments.

Flange-to-Swagelok tube fittings, providing a threadless, weldless transition from flanged piping systems to tubing systems

High-Purity PFA, Fine Thread Flaring Fittings - Available in 1/4, 3/8, 1/2, 3/4 and 1 in. tube sizes; PFA and PVDF nut options; a wide variety of configurations.

Jacketed tube connectors designed to provide a leak-tight connection on the end of single-jacketed tubing, eliminating the need for sleeves and 
sealing tape.

Medium- and High-Pressure Fittings - these precision medium- and high-pressure fittings are made from 316 stainless steel. Other materials are available to meet NACE MR0175/ISO 15156.

PFA Tube Fittings - Temperatures from 70 to 400ºF, working pressures up to 275 psig, tube fitting sizes from 1/8 to 1/2 in.

Pipe Fittings - 1/16 to 1 in. sizes; 316 stainless steel, brass, and carbon steel; NPT, ISO/BSP, and SAE threads.
UltrTorr vacuum fittings made of stainless steel with fluorocarbon FKM O-rings.
Vacuum Fittings, Adapter Fittings - KF to VCR® metal gasket face seal, VCO® O-ring face seal, NPT, Swagelok® tube fitting, and ultra-torr vacuum fitting; CF to VCR metal gasket face seal and Swagelok tube fitting.
VCO O-Ring Face Seal Fittings in 316 or 316L stainless steel, available with tube, NPT, SAE thread, and weld connections.
VCR Metal Gasket Face Seal Fittings made of high-purity stainless steels.
Weld Fittings, Ultrahigh-Purity, Specially Cleaned, and Industrial - 1/8 to 1 in. and 6 to 18 mm; 316, 316L, 316L VAR, and 316L VIM-VAR stainless steel materials; Fittings for manual or automatic welding equipment.
Industry favorites
Swagelok fittings are used wherever you find fluid systems. Some fittings, however, are especially important to particular industries. Our TS Series fittings, for instance, are designed specifically for the bioprocessing and pharmaceutical industries. They solve problems inherent in conventional sanitary clamp fittings: gasket extrusion and the resulting fluid holdup.

Our B Type VCO face seal fittings also are found in biotechnology and pharmaceuticals. It uses an L-ring seal that eliminates concavity at the bore. This feature reduces the potential for media entrapment.

Petrochemical companies rely on Swagelok fittings for gas-tight sealing and consistent reassembly for batch and continuous processing, fluid flow, heat and mass transfer, mixing, separation, and utilities.

In the power industry, our tube fittings stand out for their excellent vibration resistance—even in harsh or high-stress nuclear environments.
Additional Resources