Swagelok Tube Fitter's Toolbox: Engineered to Get the Job Done
by Jeff Hopkins, on 3/3/15, 8:00 AM
March promo: Buy the tube fitting and tube bending tools and toolbox, and get free admittance to two Swagelok training seminars!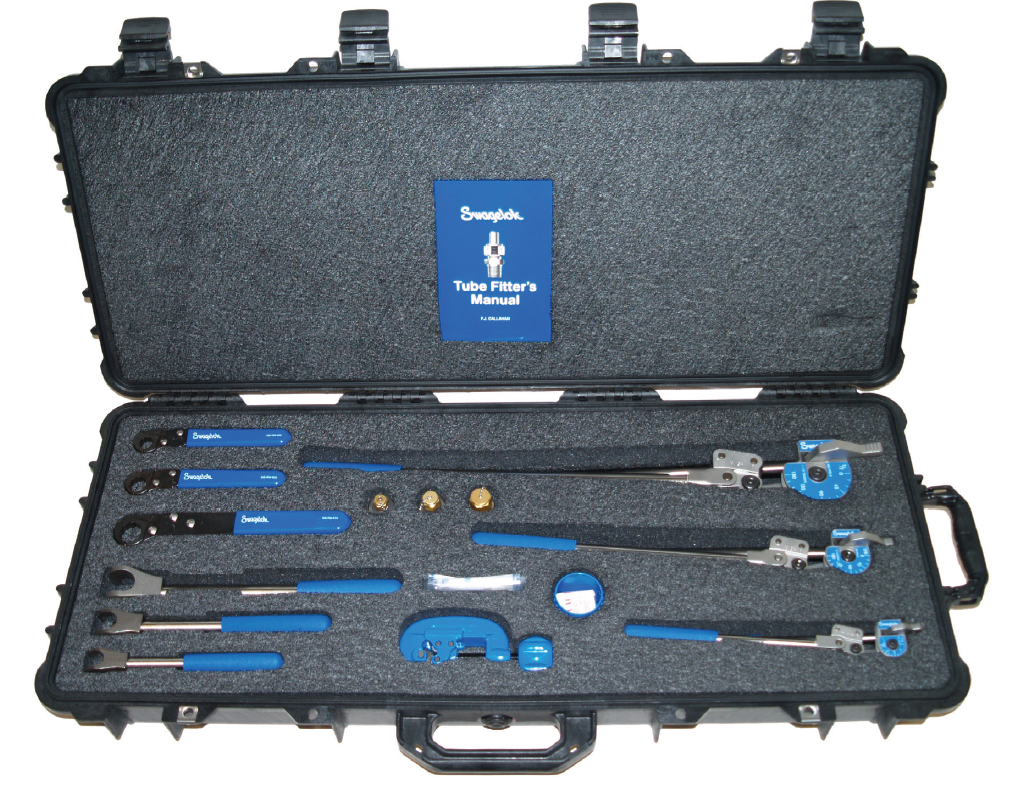 Get the ultimate set of fabrication tools in the Swagelok
®
Tube Fitter's Toolbox, and get free admittance to two Swagelok training seminars
Now »
They say a craftsman is only as good as his tools. If you are going to invest in the right tools for the job, it only makes sense to take care of your investment. Yet far too many people simply toss their tools into a big box on the back of their truck. The tools rattle around and get lost under other tools. So, we're offering a nice incentive to take care of your tools. Buy the Swagelok Tube Fitter's Toolbox for $1,699 and get free admittance to two Swagelok training seminars ($258 value). That way, you can brush up on how to use the tools at our Swagelok Tube Fitting Safety Seminar and Swagelok Tube Bending Seminar. Our next two seminars are next week, Tuesday, March 10th and Wednesday, March 11th. Get more details here »
Finding the right tool for your next tubing job will not be an issue when you have the Swagelok Tube Fitter's Toolbox on the jobsite. The toolbox contains a complete set of Swagelok hand tools designed specifically for fabricating tubing systems. The set is designed for use with the three most common tube sizes: 1/4, 3/8 and 1/2 inch (outside diameter) tubing. All of the tools are securely contained in a lockable, water resistant case.
The Swagelok Tube Fitter's Toolbox (part number MS-FSTOOLS-KIT) contains the following hand tools:
• Hand tube benders in three sizes
• Tube cutter
• Tube deburring tool
• Gap inspection gauges in three sizes
• Tee wrenches in three sizes
• Ratchet wrenches in three sizes
• Pre-swaging tools in three sizes
• Swagelok's Tube Fitter's Manual
Time saving tools
We always tell our customer base that you don't need any specialized tools to install our tube fittings, and that's true. But our tee wrenches and ratchet wrenches do make the job easier and speed up the work. For instance, one advantage of Swagelok tube fittings is that they can be disassembled and reassembled. We offer the pre-swaging tools so you can do some work on the bench and then take the assemblies to the field and put it all together. That can be very helpful if you are working in tight spaces, over your head or down by your feet.
Compact case, compact price
So start March off right, by organizing and caring for your tools. Buy the Swagelok Tube Fitter's Toolbox for $1,699 (carrying case is made by Pelican, one of the best tool case brands in the nation) and then register to attend your two free Swagelok training seminars. The case is lockable for security, and is equipped with wheels for easy transport. Inside, the foam lining gives each tool its own space, and protects it from dirt and debris. That's important, because a damaged roller wheel on a bender could cause scoring and result in bends getting rejected by an inspector.
Our design
The case is our own design from Swagelok Northern California. The tools and case are such a useful combination that other Swagelok Sales and Service Centers have asked us to make some for them and their customers.
We build out Tube Fitter's Toolboxes as needed, so how fast we fill your order depends on which tools we have in stock. Usually a few weeks of lead time is plenty.
If you already own the tools, you can still buy the case separately. Even if you aren't ready to buy the whole package, you can buy the case now and fill it with only the tools you need.
No matter how you approach it, the Tube Fitter's Tool Box has you covered. Order one now »
Additional Resources