Tech Clip Videos: Rubber & PTFE Hose
by Jeff Hopkins, on 8/29/19 9:00 AM
Our bite size videos highlight two kinds of hose in only three minutes
---
"The right hose and end connections maximize safety and performance. The wrong ones can mean costly maintenance issues, safety risks, and slow-downs."
- From Swagelok Hose & Flexible Tubing

---
Look Before You Leap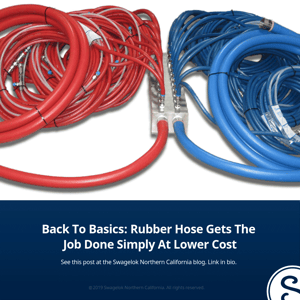 Many fluid systems make use of rubber hose with push-on hose end connections and hose clamps, because it is often a cost effective solution for many lower pressure and less critical applications. A new Tech Clip vinodeo from Swagelok tells you the basics about Swagelok's PB Series rubber hose, a great choice for general purpose applications including compressed air, water cooling, and oil transfer
Swagelok PB series hose and Swagelok PB push-on hose end connections do away with hose clamps, so you don't need to worry about possible exterior or interior hose damage or leakage that clamps might cause. Eliminating hose clamps also saves you time and expense during installation.
Swagelok PB Series rubber hose is available with a combination of end connections including Swagelok tube fittings, Swagelok tube adapters, male NPT threads, and male ISO/BSP tapered threads.
Our standard color for PB Series Hose is blue, but you can also get it in black, gray, green, red, or yellow. That's handy when you want to color-code you hoses, such as using different colors for hot and cold fluids.
We also offer optional nitrogen pressure testing or hydrostatic testing, and lanyard tags for hose identification.
Getting the kinks out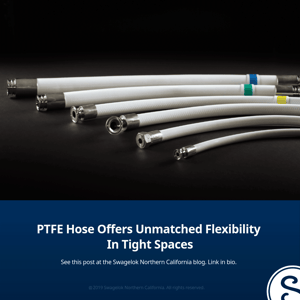 One of the benefits of hose its ability to bend without the need of tube benders or additional fittings. But even hose has its limits. Over-bending it will put extra pressure on the connecting points, and the hose may even collapse and kink. This is especially the case with ordinary PTFE hose or other plastic core hose constructions.
Fortunately, Swagelok is setting new standards in hose flexibility with its newer line of PTFE hoses, and we have a Tech Clip to show them off. PTFE works well in a variety of applications because of its chemical compatibility, wide temperature range, inertness and clean-ability.
Our unique design bonds a nonconductive fiber braid to the smoothbore PTFE core, giving greater resistance to collapsing and kinking when bent.
Swagelok has four series of PTFE hoses with our unique fiber braiding technology. The F Series is a two-layer non-metallic PTFE hose commonly used where flexibility, chemical compatibility, and a non-metallic and nonconductive braid are desired.
The three-layer X Series adds a 304 stainless steel over-braid on top of the fiber braid bonded PTFE core, enhancing flexibility and kink resistance beyond ordinary PTFE hose. This added flexibility makes it easier to install and route through tight spaces.
The four-layer S Series adds a silicone cover on top of the 304 stainless steel over-braid. It provides a smooth, non-contaminating, easy-to-clean surface and insulation from internal system fluid temperature extremes.
The five-layer W Series adds an insulating wrap between the 304 stainless steel over-braid and the fiber braid bonded PTFE core. This eliminates the need for external insulation in many applications. The W Series also comes standard with a smoothbore, carbon black-filled PTFE core for applications that require static dissipation.
---
Just ask
Swagelok Northern California has a great deal of exposure to all aspects of fluid system design and engineering. Whether you have a simple question or a complex challenge, we're glad to hear from you.
---
More like this: