Need a Hose? Swagelok Can Help You Choose the Right One
by Jeff Hopkins, on 12/10/14 8:00 AM
Our latest video highlights four steps to choosing a hose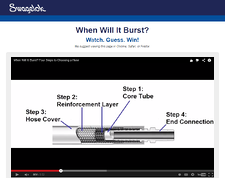 If you haven't weighed in with a guess for our latest "When Will It Burst?" video, no better time than the present. This time around, we are bursting a length of X Series PTFE hose, one of 20 different series of hose in our hose catalog. While you are watching the video, you will learn about the four main components to consider when choosing a hose.
Ten years ago, we installed a hose cell at our original Sunnyvale location, so we could locally make several of our hoses quickly for our customers. Since that first hose cell, Swagelok has doubled the number of hoses in our product offering, and we have expanded our local hose fabrication capabilities as well. We have a dedicated team of full-time technicians certified by Swagelok manufacturing engineers. To pass, they have to produce three samples of every kind of hose we build, and each one is put through destructive testing.
We have also increased our knowledge of hose and helped develop custom hose solutions for customers here in Northern California, in the pharmaceutical industry and semiconductor industry.
The right hose
So while we may be having a little fun with our When Will It Burst? video contest, we also know that the right hose keeps your process performing safely and cost effectively. The wrong hose could undermine your operations, put personnel at risk and compromise your bottom-line — sometimes without you being aware of it. For example, an improperly chosen hose may kink. This permanent buckling disrupts system media flow and creates a rupture threat. However, kinked hoses aren't easily detected and so afflict many plants.
So, we hold seminars from time to time about the proper selection and use of hose. We also blog about hose and hose selection regularly, and we have even been known to do free lunch and learns about hose at customer sites.
Which brings us right back to "When Will It Burst?" In this edition, we talk about the four components to consider when choosing a hose, and then we burst some hose. All you have to do is watch and then guess how much pressure it took to burst the hose. Remember, if there's a tie, the prize goes to whoever made their entry first.
Additional Resources